Twitter Livechat: Join The Conversation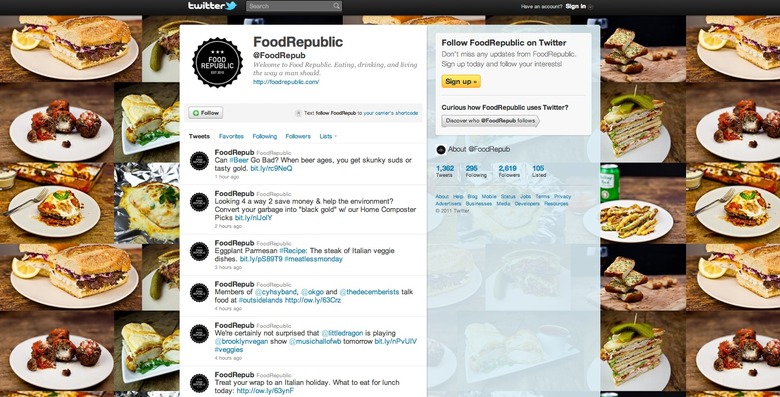 Attention, Twitterverse! Food Republic (@FoodRepub) and Marcus Samuelsson (@MarcusCooks) are hosting a live chat on August 18th starting at 2PM EST featuring a lively crew of your favorite chefs, food personalities, and food websites, including (but certainly not limited to):
And we want you to join in. The topic of conversation? Social media, food, and how chefs are using the great power that comes with hundreds of thousands of fans and followers. Or, as we like to call it, responsibility. The discussion is meant to generate ideas and raise awareness and spur social action to help alleviate the crisis in the Horn of Africa.
While we're on the topic of responsibility, let's do our collective part to help those affected by the East African food crisis. Bid on an impressive array of auction items, including "The Marcus Samuelsson Experience," an intimate multi-course dinner at Red Rooster Harlem, hosted and prepared by Marcus himself. Love Bizarre Foods? We've got two bundles of signed books, DVDs and board games to satisfy even the most die-hard fan's crazy cravings. Love the brothers Voltaggio? Bid on a limited edition t-shirt designed by The Hundreds exclusively for Michael Voltaggio's ink.sack sandwich shop, or a signed advance copy of the Voltaggios' new cookbook, Volt Ink. That's right, it's not out yet. But we have a signed copy for you.
Browse our chef-collectibles and more, and feel good knowing that all proceeds are given to support UNICEF. Don't see anything that strikes your fancy? Click this link to donate to UNICEF anyway, the Horn of Africa needs your help.
Be sure to follow us on Twitter and tune in on the 18th starting at 2PM EST using the hashtag #FRchat to see what your favorite people in cuisine think about social media's role in the world of fine dining and food media. We're eager to connect you with our chat participants and hear what you think. See you there!