Stolen Food Aid Crisis Hits Somalia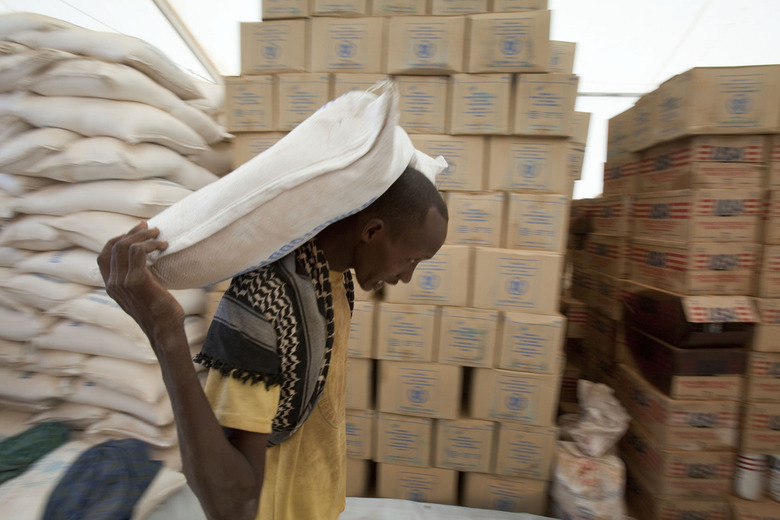 Refugee camp
Aid workers in Somalia are up against a new challenge: the theft of food meant for famine victims. Sacks of grain and fortified peanut butter as well as other staples have been stolen, and reports are spreading of the pilfered foods showing up for sale in markets.
The World Food Programme is currently feeding 1.5 million people in response to the famine that was declared in Africa in July. It's estimated that less than one percent of this food aid has been stolen. While that number may not sound significant, the WFP warns that any loss in food aid could have significant consequences.
This has happened before. During the famine of 1991 and 1992, warlords and militiamen looted a substantial amount of the food distributed by aid groups, causing the United States and other countries to send in military troops to prevent further stealing.
Government soldiers, Somali militants and corrupt contractors are thought to be responsible for the current food thefts. The WFP is actively investigating any leads while still distributing food in Somalia.
Here are excerpts from reports in the global media about the stolen food crisis:
Newstime Africa explains the WFP's reasons for continuing food dispensation.
'The stakes are very high here. It is peoples' lives here. It is a question of death or life. We need to continue,' notes [World Food Program spokesperson Christiane] Berthiaume. 'We need to investigate the situation. We condemn those that are doing that. But, we need to continue our work because if we do not, people are going to die. There is no choice.'"
The Guardian Nigeria looks into the difficulties relief organizations face in Somalia.
"AP's investigation showed that the stolen sacks of food aid are being sold at markets in the same neighbourhoods where skeletal children in filthy refugee camps can't find enough to eat. 'While helping starving people, you are also feeding the power groups that make a business out of the disaster,' said Joakim Gundel, who heads Katuni Consult, a Nairobi-based company often asked to evaluate international aid efforts in Somalia. 'You're saving people's lives today so they can die tomorrow.'"
Al Jazeera reports on the precarious situation of the food that does reach refugee camps.
"Donated food is not even safe once it has been given to the hungry in the makeshift camps popping up around the capital of Mogadishu.
"Families at the government-run Badbado camp, where several aid groups distribute food, said they were often forced to hand back aid after journalists had taken photos of them with it. 'We can't refuse to co-operate because if we do, they will force us out of the camp, and then you don't know what to do and eat. It's happened to many people already,' said Halima Sheikh Abdi, a refugee."
The New York Times comments on the history of stolen food aid in Somalia.
"'This is the price of doing business in Somalia,' said one aid official who worked in Somalia in the 1990s but was not authorized by his organization to speak publicly. 'You're always going to have seepage.' One way the United Nations and its local partners are trying to combat the pilfering of food is by serving individual portions of porridge at special centers, as opposed to just handing out sacks of grain."
Food Republic is hosting a live twitter chat tomorrow, Thursday, August 18 at 2pm Eastern, to raise awareness about the famine in Africa, as well as a live auction of celebrity chef collectibles, with all proceeds going to Unicef. Click here for details and find us at #FRchat.