Toasted Nueske Ham Sandwich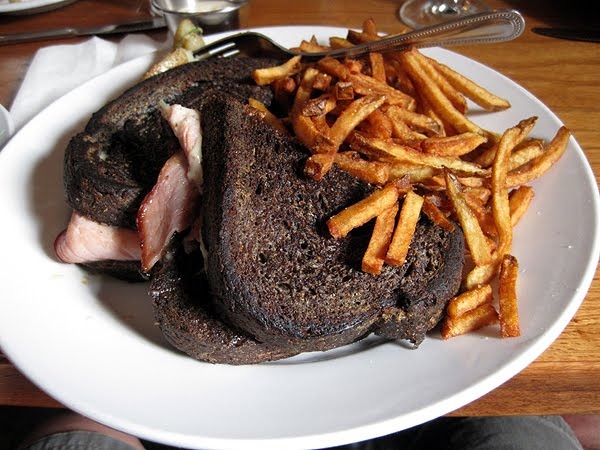 Hopleaf sandwich
Opened in 1993, the always-crowded Hopleaf was just one room, decorated with vintage European beer posters and a cool antique jukebox stocked with jazz, country, and R&B 45s from the 1940s, 50s, and 60s. People didn't go there to eat. It was all about the beer. And with more than 40 on tap and somewhere around 250 (probably more) available by the bottle, there were (and still are) a lot of them! Beer fans of all walks of life flocked to it.
Since it was popular serving only drinks, I was a little surprised when I learned in 2003 that it was going to massively expand and build a kitchen. Having food would be nice, I thought, but won't this kill the "all about the beer" atmosphere of the place? I needn't have worried. The jukebox is still there and there are even more of those cool posters. And from day one, the kitchen has offered consistently excellent food constructed to work well with beers. The menu changes often, but a few things don't. They always serve fantastic Belgian-style mussels and frites and one of the very best sandwiches in Chicago: The not-so-impressive sounding "Toasted Nueske Ham," our sandwich of the week.
If you don't know about Nueske's Applewood-smoked hams, you should. Smoky and salty, it's as good as cooked ham gets. It gets even better on this sandwich, in which they take a huge slice of fresh pumpernickel bread, place a thick slab of nutty Gruyere cheese on top, add a lot of ham, top with a savory apple-tarragon coleslaw, add one more slice of gruyere, and top with another huge slice of bread. The sandwich is then grilled in what tastes like a copious amount of butter until crispy on the outside and melty and gooey on the inside. Served with perfect pommes frites and a side of breath-destroying garlic aioli, I can't imagine there's a better ham and cheese sandwich available anywhere. It offers tasty sustenance to go with as many of those 300 or so beers you care to try!
Hopleaf: 5148 N. Clark Street Chicago, IL 773.334.9851
---