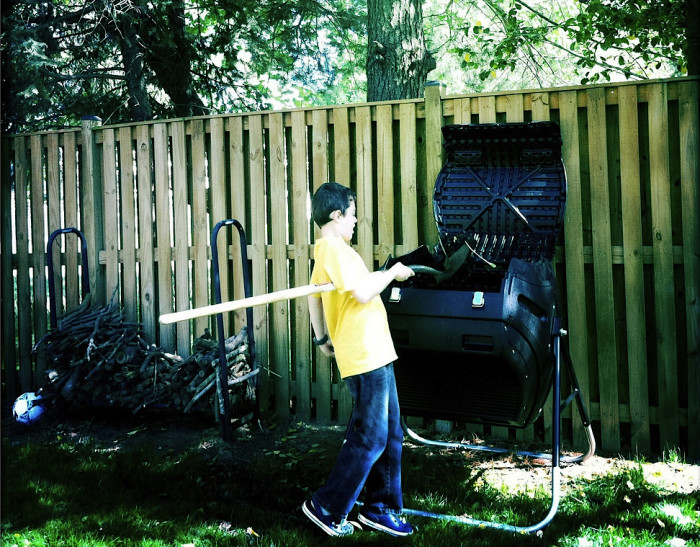 Do you toss your eggshells, rotten vegetables and yard trimmings? While we're on the topic, do you dread having to buy compost every season to nourish your grass or garden? If you're looking for a way to save money, help the environment and grow the biggest freakin' garden tomato possible, you may want to consider starting your own compost pile. For all of the the eco-friendly gardeners out there, here's the dish on home composters.
For Smaller Living Spaces
If you're living in an apartment, a compost holding unit is perfect for you. Available with many online retailers, these allow air circulation to speed along composting process faster. These are also good if you are planning on adding to the compost pile daily, which if you cook – and you should – you will. What could be better than fast, space-efficient compost?
Super Composter Resin Compost Bin, $70; from compostbins.com
Best For More Output
If you are looking for an even faster composting process, the tumbling composter may be the best choice for you. By spinning the compost every few days, you allow more oxygen into the compost and provide a faster turnover time (get it?). These come in several varieties, with some even allowing you to compost two barrels at a time.
Dual-Batch Compost Tumbler, $169.00; from gardeners.com
Best for Really, Really Motivated Individuals
If you want to make composting a bigger part of your life, you may want to check out the crème de la crème of composters: The Compost Toilet. You did want to compost everything, didn't you?
Excel NE Compost Toilet, $1,494.00; from woodlanddirect.com
Best Value
Maybe it's not as cool as the tumbling composter, or as efficient as (and not to be confused with) the compost toilet, but this bin still gets the job done. Available for $29.99, this composter works perfectly in small spaces. This is ideal for the first-time composter, or those who just don't want to spend a lot of money making their own dirt.
Presto Plastic GeoBin Composting System, $29.99; from homedepot.com
---
Got any composting tips we should know about? Tell us in the comments below.
---
More Gadget of the Week picks from Food Republic: