Summer Fireworks At Momofuku Noodle Bar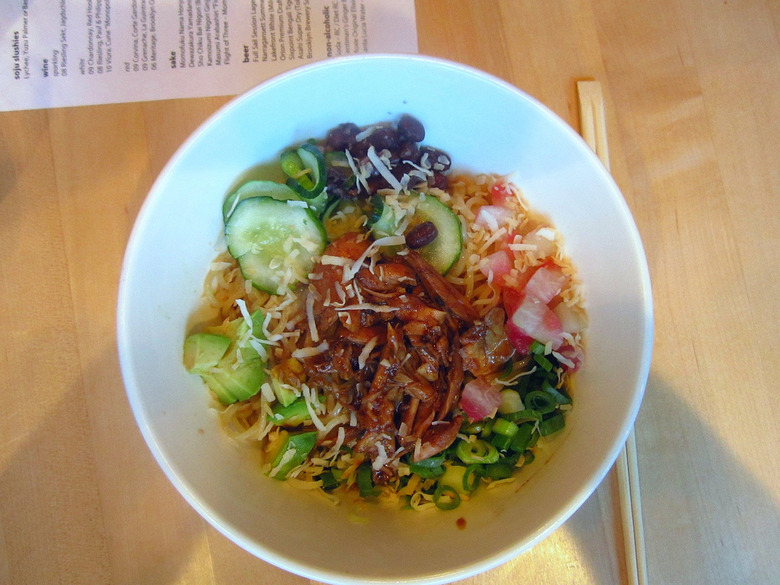 Between his obsession with country hams and serving a pork bun that is easily NYC's most-popular death row dish, I've always thought of David Chang as more of a pork man than anything. But come this time of year — when late summer's tight grip on the city makes everybody long for cardigans — chefs like Chang are entering the zone with tomatoes and corn. (It's for only about three weeks between late-July and late-August that the produce hits its peak). I was lucky enough to find myself in the East Village on Friday night to try two of the seasonal dishes. And a couple more. And some ice cream.
A slightly modernist heirloom salad was built around tomatoes pulled from the New Jersey soil, which are tossed in a shiso pesto with cucumbers and red onions. Housemade smoked ricotta (wait, not from Salvatore?!) and light, slightly bitter, avacado foam binds it all together.
A sweet corn side dish was an off-the-hook play on Mexican elotes. The grilled kernels were mixed with a very Red Hook ball field blend on cotija cheese, scallions, cilantro and a lime aioli. But Chang, being Chang, tosses in large chunks of Benton's bacon — which works magic with the candied corn.
Even when the sidewalk is sweating, the crowds still line up for bowls of steaming ramen soup. That's weird to me, but OK! I still had a hankering for noodles and went with an order of jerked chicken from the chalkboard. The bird is rubbed with a Caribbean-ish mix of onion, ginger, thyme and habanero, which coats the legs, breasts and thighs for over three days before roasting. The ramen is cooked to order and chilled in an ice water bath. In a large bowl, everything in combined with an addition of scallions, pickled watermelon rind, avocado and beans cooked in chicken fat. Toasted coconut is sprinkled on top.
I closed the meal with a couple mind-blowers from pastry chef Christina Tosi. She calls them pretzel cake truffles —three balls coated with white chocolate and "crumbs." The cake portion is a molasses batter made moist with butter, eggs and buttermilk. The order of three was not enough, so we went with cheesecake and ginger soft serve too. Fat Friday's are back. Tosi's ice cream is salty, in the best possible sense.
They were out of her famous corn cookies. But luckily those don't go out of season.