Getting To Know Pla Som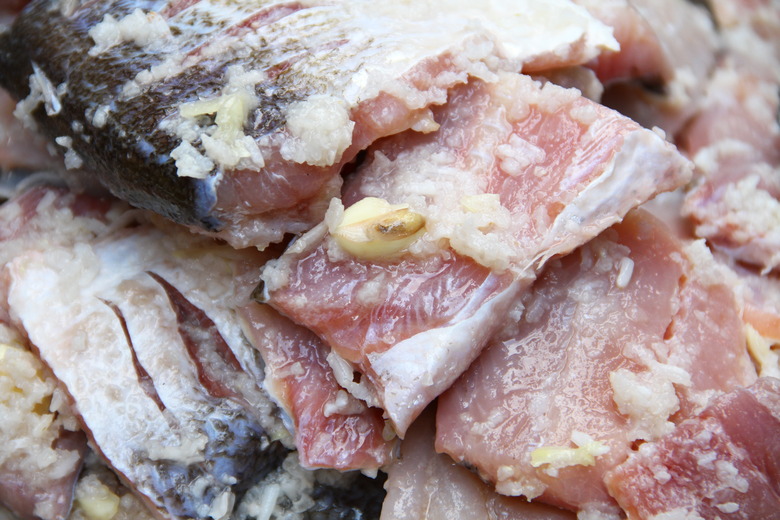 We first encountered pla som in Isaan, a region in eastern Thailand. It was one dish in a series of at least 10 we were gorging ourselves on at an outdoor restaurant in the non-descript town of Udon Thani. Isaan isn't known for its beautiful temples, great shopping or gorgeous mountains, but it is known for food. The proximity to Laos — just a 5-minute drive over the Friendship Bridge — and the mighty Mekong River are major influences on Isaan cuisine. Ant eggs, dill and mushrooms galore, preserved crabs and a liberal use of chili unlike any we have seen anywhere — all of this had us gaga for the food at every stall and market we passed. But nothing stopped us in our tracks like pla som.
The fish was served fried. Simply garnished with fresh herbs, onion, dried chili and a lime wedge. Sour, complex and funky, but not in that off manner that indicates that a fish is past its prime; this fish is fermented. We devoured the plate and ordered another one and more Sang Som (Thai rum) to help us plough some room in our overstuffed bellies.
The next day, we were off to the market, because, well, when we'd asked how it had been prepared the night before, we'd been told that it was simply bought at the local market. Sitting out in the open air, marinating like a piece of meat, we found slices of fish that had been coated with cooked rice mixed with garlic and salt. That's it. We were then offered slices of it, raw, with a scud chili back. It had a more assertive sourness than the fried version, yet it was creamier and suppler in texture. Is this it, we thought? Can it be this simple?
As soon as we returned to the States we bought some local brook trout, made several deep incisions on each side of the fish and went to work. We cooked some short grain rice, spooned it into a mortar in which we had crushed five or so garlic cloves and two serrano chilies, and then we seasoned the whole mash very liberally with sea salt. We left it on the screened-in porch in a bowl covered with cheesecloth for 2 days in 80-degree weather.
On day 3, we lunched. As we wiped the fish clean of the rice mixture we heated Jori's Mamaw's skillet...it had never fried trout like this before. We lightly fried the fish in about ½ inch of olive oil. They were smallish trout; I estimate it took about 10 minutes to cook, turning only once. We ate the trout with fresh scallions, Thai basil, fresh chili and some rice...and I believe a Les Clos Sacres from Joly. Jolly we were! We had discovered a whole new way to enjoy fish.
After that test run in the country, I brought the recipe down to Steve Haritopolous at Fatty 'Cue in Williamsburg. He decided to use a local porgy and nailed it! And then showed it to all my other chefs who flipped for this simple, sour masterpiece. Now they'll run it as a special every so often, fried and served with a mellow red chili-based curry dip and the requisite fresh herbs on the side. We must eat it either at home, at one of the Fatty restaurants or one of the few Thai restaurants in Queens that actually makes it, at least once every other week. Without it we get angry, edgy and anxious. You can get hooked... it's the sour fish fix.