The Original Burger: Louis' Lunch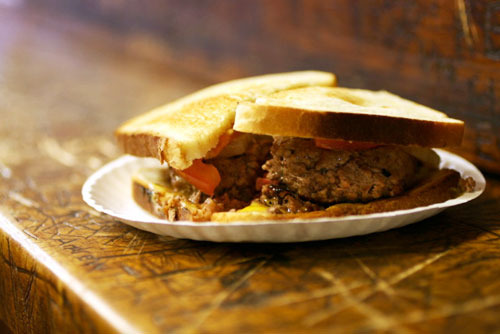 louis lunch hamburger
Louis' Lunch in New Haven, Connecticut claims to be the creator of the original American hamburger. In 1900 on the dot, Louis Lassen ingeniously slapped his blend of ground steak between two slices of toast in order to satisfy a customer in a rush. More than a century later, little has changed. Their burgers, made fresh from a five-cut blend, are cooked on Industrial Revolution-era cast iron grills and continue to be served on white toast. The result is a slightly charred yet juicy burger, with the toast nicely absorbing any errant juices.
Louis' Lunch keeps their burgers as scantily dressed as possible, as were their predecessors (the burgers, not the management), although they have made some concessions. Customers may choose to add cheese, tomato or onion, but ketchup is strictly forbidden. That's right, forbidden. A New Haven icon since 1895, Louis' Lunch has accumulated a staunchly dedicated local following who understand the rules as well as the most effective language for placing orders. Should you have the opportunity to approach their historic wood counter, ask for a "cheese works" and you will get a medium-rare hamburger on toast with cheese, onion and tomato.
Ketchup is not a crime. Got a burger to share? Let us know where to find it in the comments below.
More Burgers of the Week from Food Republic: