A Visit To The Seinfeld Diner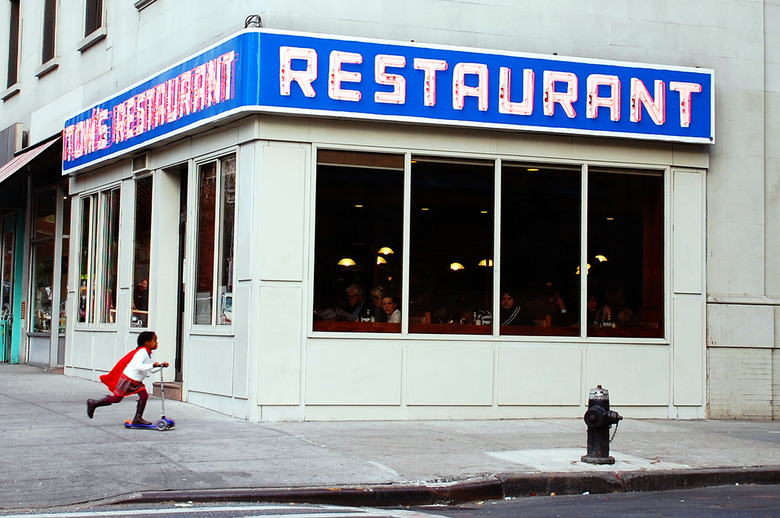 What did you do today? Stop right there — there's a show! That's a show!
For example, I rode the subway but I had to change trains just to get up to Tom's Restaurant, better known as Monk's Diner to those who can't resist watching every Seinfeld episode syndicated every single day. That's a show.
Certainly something had to have happened on the hour spent underground voyaging from the East Village.
No. Nothing happens.
It tough to sell friends on a trip like that. "You gotta come to the Upper West Side with me, man." I'm usually one to present original, alluring activities. Naturally, my reputation alone has piqued the invitee's interest.
"Sweet. What's going on there?"
"A diner. The one from Seinfeld." I can hear him through the cell phone. He's thinking, "Just a diner?" Yeah, considering we're in America, is that ok?
"Oh. Right. I have to go to the gym."
"But — you weren't going to the gym before? When I asked you to come. If you had to go to the gym you would've cut me off right there. You wouldn't have delved deeper into the details of the plan! And that was your fatal error, my friend."
That's a show! But it's not an article.
Diners aren't just something for Guy Fieri to promote. They're a cornerstone of the Empire State. Just look at the locale for the makeshift group therapy sessions for our four conversationalists. The show filmed in LA yet made sure to paint the picture of New York in your dime-a-dozen neighborhood 24-hour joints.
Well, in the 1990s, before the new foodie movement began, that was the Big Apple in a nutshell — a diner that promised fresh coffee and pie via neon signs in the window. Suck it, Central Perk!
Joining me on this adventure, which now that I think about it reminds me a lot of that John Ritter movie Stay Tuned, is an old college buddy, Q. He's an avid Seinfeld fan, an occasional jean-shorts wearer, and an all around likable guy.
The ride up was ordinary. Except when I swiped my subway card I assumed my fare was accepted before the machine confirmed. And I arrogantly tried to walk through the immovable turnstile. Every commuter around you looks and smirks, as if you're some kind of a moron for not mastering this flawed technology.
As you may or may not know — the establishing shot of the popular hang is the view just south of the corner of 112th St. and Broadway. However, the interior doesn't look a thing like the TV set.
I was lost. I didn't know where to sit. I thought I was fully prepared for the askew layout. But I stood there, dumbfounded, with a bottle of my own maple syrup in hand (not really).
Tom's Restaurant acknowledges their minor fame brought about by their flawless portrayal of Monk's Diner. A few pictures of the cast, some magazine caricatures, and of course the poster of Kramer's portrait — the Kramer.
Q was expecting more of a themed restaurant. He wanted the Boom-Ba-Doop-Boo-Bop! Seinfeld sound effects when you walk in the front door. He wanted a plaque in the bathroom reminding citizens to "share a square." He wanted the menu to reflect some of the choices we've known and loved on NBC, TBS and CW11 (or check your local listings). Throughout the show's run, and re-run, they've sampled a wide array of sustenance at Monk's, but only a couple of stars shine brighter than the rest.
My heterosexual — not that there's anything wrong with that — dinner date probably needed the George Costanza reversal of fortune more than me. But screw it. I wanted chicken salad on rye with a side of potato salad and a cup of tea.
The waiter didn't speak much English. He didn't bat an eye. Perhaps he didn't know the show well enough and this exact cadence of an order was so commonplace in his section that he simply assumed it was the house specialty. I was disappointed in his straight face.
Q was left to order the big salad.
"Which one? We have 'dis one and 'dis one." He pointed to the menu to two salad options, neither of them said "Big Salad."
"He pointed to the menu! He pointed to the menu!" Q said excitedly.
Albeit it was with a pen and not his middle finger.
"Alright, I'll just take that one."
First off, let's discuss the poor business sense of the owner. Fifteen years ago, Tom could've said to himself, "If I reprint my menus with 'big salad' on it, I could really take advantage of this Seinfeld bubble. Wouldn't cost much, and really it could just be two tossed salads combined in one larger bowl."
Secondly, when your wait staff applies for a job, they should get in on the fun. I'm not saying they should all be big-chested like the fictional lady servers (in actuality I only saw one waitress with moderate-sized breasts), but they should have some general knowledge of the Mecca they go to work in.
The food came fast. It was diner food — run-of-the-mill diner food. And that was fine with us. Conversations ranged from relationship chatter to the minutiae of how to select your groomsmen.
Q even instinctively "yada, yada, yada-ed" me. It made the trip worth it.
I could see Tom's as a lovable neighborhood haunt. A casual spot on the corner where everybody knows your name. In the future, I'll try not to let pop culture dictate where I eat — but then where's the fun in that?