The Worst Idea Ever? Part 2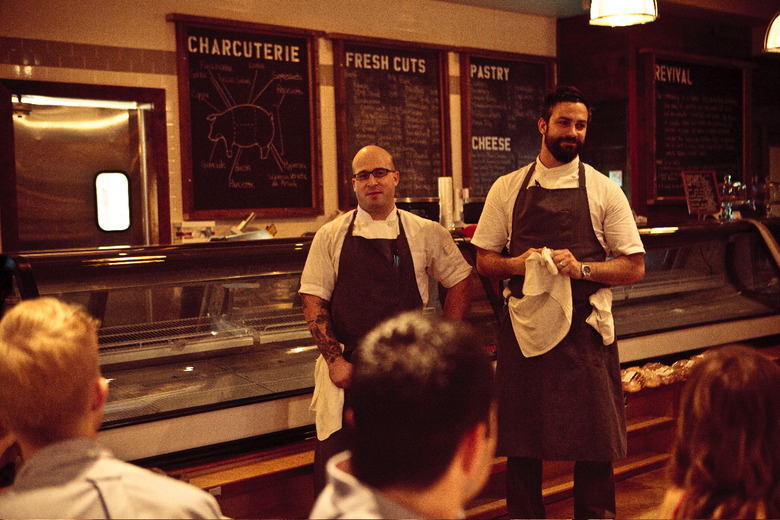 Last week, we introduced a new Food Republic serial, The Worst Idea Ever?, in which chefs Seth Siegel-Gardner and Terrence Gallivan set out to open a restaurant in Houston, Texas as Pilot Light Restaurant Group. The serial will continue every Monday until they get a restaurant open, hopefully by the end of the year.
After becoming friends while opening Gordon Ramsay at The London Hotel in New York City, Seth and I parted ways to pursue executive chef positions. I went to work at August in the West Village and Seth went to Chicago to open Marcus Samuelsson's C-House restaurant. (Note: August and C-House are part of Food Republic co-founder Samuelsson's company).
In the spring of 2007, my wife and I traveled to Chicago, prior to the opening of C-House, to visit Seth and his wife, and to eat at Paul Kahan's, Blackbird. I remember sitting there during our meal and Seth and I remarking that someday we wanted "this" — a restaurant of our own.
Although we couldn't yet quantify what it was exactly, the movement of the restaurant, the obvious caliber of food and the distinct pleasure that every patron was experiencing became a part of our future goals.
Over two years later on a Thanksgiving trip to London, we had our first real conversation about the ideal city for a restaurant. First we talked about New York, and quickly that idea was squashed, namely because of sky-high rents. Then Chicago, Washington DC. I'll be honest: Houston didn't even come up. I still have some emails of those early conversations listing possible locations, aesthetics and menu formats.
Four months later, a vacant restaurant opportunity for the month of August, in Houston, fell in our laps. In July 2010, Seth and (his wife) Hannah moved to Houston and began the initial preparations for opening a pop-up restaurant. I was still living in NYC, and I somehow convinced my wife it would be a good idea to leave my job, her and New York for the month of August to collaborate with Seth and Justin Yu on a one month pop-up restaurant in Houston's Montrose district, called the Just August Project. It seems crazier now than it did a year ago, but the effect was lasting.
After the closing of Alto and the conclusion of a consulting job Seth had been doing, it seemed that the time was right to jump in with both feet. Once again, I convinced my wife to go to Texas, this time for good. I imposed upon Seth and his wife to come to New York City, pack a U-Haul and drive the 1,700 miles to Houston — passing the time with energy drink-fueled discussions on spreadsheet cost analysis and reading Keith Richards' biography.
So now we are here, exactly one year later — enduring the month of August. The month that everyone leaves Houston to get out of the heat, take one last vacation and ready themselves for the year. August in Houston makes me remember a month full of days when Seth and I finally got to construct and deliver the food we had always wanted. A process of constant collaboration, discovering exactly what our food is. That was the month I got a taste of what was in store for us, despite the geography, jobs, commitments and insanity. I finally knew that whatever it took, a restaurant in Houston was in our future.