City Winery's Summer BBQ Blowout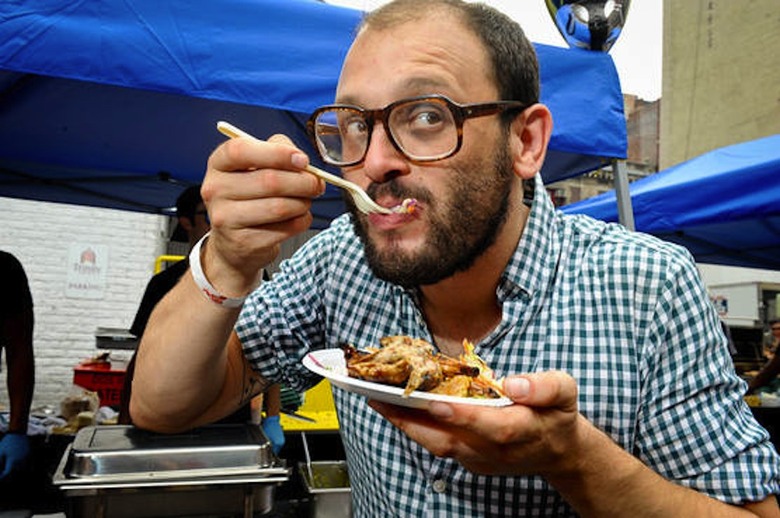 Food Republic and associates entered Saturday's Summer BBQ Blowout, a summer-and-meat-themed block party at City Winery, with one goal: Get every stand's number stamped on each of our tickets.
One competitor claimed he would not be full after 10 courses and two drinks. That one was incorrect. Another ate three quail. He was praised. (Also, how did he get three quail?) Myself? I wandered the grounds happily occupied with a massive coriander-smoked beef rib from Mile End's Noah Bermannoff that was so good that Bermanoff ran out within the first hour. I then moved on to the following courses. Yes, I, the pack's lone female, finished 12 punches with vigor...and then palpable fatigue coupled with minor meat sweats. Hey, it was, like, 95 degrees.

Sam Mason, Empire Mayonnaise: Shrimp Salad With Peaches, Tomatoes and Bacon Mayo

Phillip Kirschen-Clark, Vandaag: Duck Leg Satay With Holland Pepper and Puffed Rice

Sam Talbot, Imperial #9: Charmoula Grilled Mahi-Mahi Taco With Peach Mostarda

Thomas Kelly & David Schillace, Mexicue: Red Beans and Rice With House-Smoked Sausage

Oliver Kremer and Tyler Lohman, Dos Toros: Braised Pork Shoulder Tacos With Habanero BBQ Glaze

Tim Sullivan, Dizzy's Club Coca Cola: Spiced Barbecue Quail With Napa Cabbage and Citrus Segments

Daniel Holzman, The Meatball Shop: Spicy Lamb Sloppy Joes

Jenny McCoy, Craft: Chocolate Panna Cotta "S'mores" With Smoked Sea Salt

Christina Tosi, Momofuku: Watermelon and Sweet and Salty Cucumber Ice Milk With Basil Cookie
Plus, appropriately strong spiked lemonades from Reyka vodka and City Winery's housemade sangria.
The blowout was hosted by twin music-foodie dynamos Greg and Darin Bresnitz of Finger On The Pulse NYC and hosts of music-meets-food podcast Snacky Tunes Radio. Live music included hunger-stoking DJ and live sets (Sultry Midnight Magic chanteuse Tiffany Roth munched enticingly on duck skewers and tacos between verses without skipping a booty shake). As we drifted helplessly into a collective mid-afternoon food coma for the ages, we smiled at the memories of powerful flavors, steady beats and attractive crowds, components that never fail to take a food event from good to great.