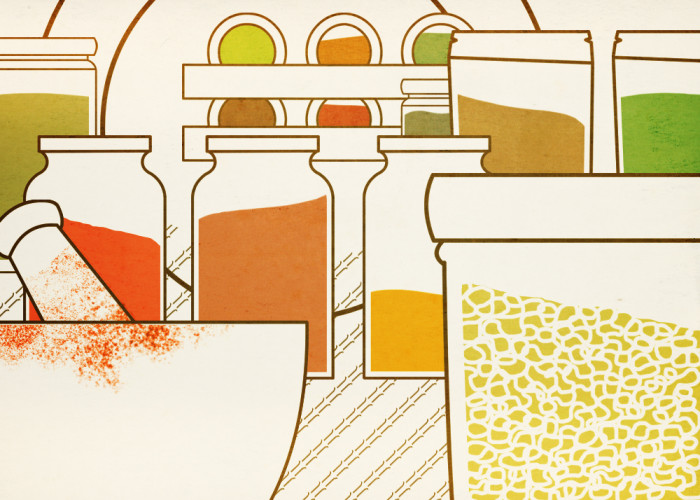 It might be time to give the spices in your cupboard the heave ho. Peter Bahlawanian, owner of Spice Station's two Los Angeles locations and a just-opened Montreal store, points out that if you use spices that have been sitting on the shelf for more than six months (or, admit it, even years), it's not much different than adding dust to your food.
"We're trying to get people used to buying small quantities," says Bahlawanian, emphasizing that your spice rack should be a daily destination, not a display of ancient artifacts. He suggests storing spices either in glass jars or resealable plastic bags, always away from sunlight. "Once you start getting hooked on the flavors that come from spices," he says. "You'll want to cook more."
Bahlawanian, a concert and awards show producer who grew up in a fragrant Armenian household in Montreal, was disappointed with the quality of average supermarket spices, and tired of having to scour multiple ethnic markets to find spices he was looking for — when he could find them at all. He and his wife, Bronwen Tawse, began researching, and soon put together a selection of 200 offerings sourced from small-batch suppliers around the world. They opened the first Spice Station in L.A.'s Silverlake in 2009. At the store, which has an adjoining patio and a welcoming, house-like feel, customers are encouraged to open the jars grouped by category (salts, spice blends, chiles,) around the store, and smell. Each jar is labeled with information and recipe ideas.
Bahlawanian gave Food Republic a list of his 5 most essential spices (runners up: paprika, cayenne pepper, tumeric), plus five that you may have never heard of, but should try.
Peter Bahlawanian's 5 essential spices:
Cumin
"Cumin is a guaranteed spice. I put it in everything. Put it in your pasta sauce, use it in a rub for meat. Latin cuisine uses it. For Middle Eastern food or Indian curry it's a necessary spice. You can't do without cumin; it goes across the board."
Allspice
"Everyone thinks allspice is a blend, but it's a berry, and the reason they called it that back in the day is because it has a combination of flavors in it. It's the best blend between sharp and sweet. Almost every Caribbean dish has it — that jerk in jerk chicken comes from allspice."
Cinnamon
"It's just an amazing spice. Healthwise, it works in many ways: it increases circulation, makes your heart beat stronger. Put it on your cereal, on crêpes. You can use it in pastries and cakes but you can also put it on meat. The flavor is unique."
Aleppo Hot Pepper
"The Aleppo comes from a town by that name in Syria known for this chile. It's not so hot — it's in the middle of scale — but it brings a lot of super flavor. I put it on salads or hummus, in yogurt. It's a really bright chile."
Ginger
"It will add another spectrum of flavor to whatever you do. Ginger is used a lot in Asian cooking, and having a little ginger in your food really helps you become healthier; it cleanses your body. Very little is enough, and the flavor is unique; it's another spectrum of flavors to add to this list."


---

What are your favorite spices? Mix it up in the comments.