Colony Grill's Hot Oil Pizza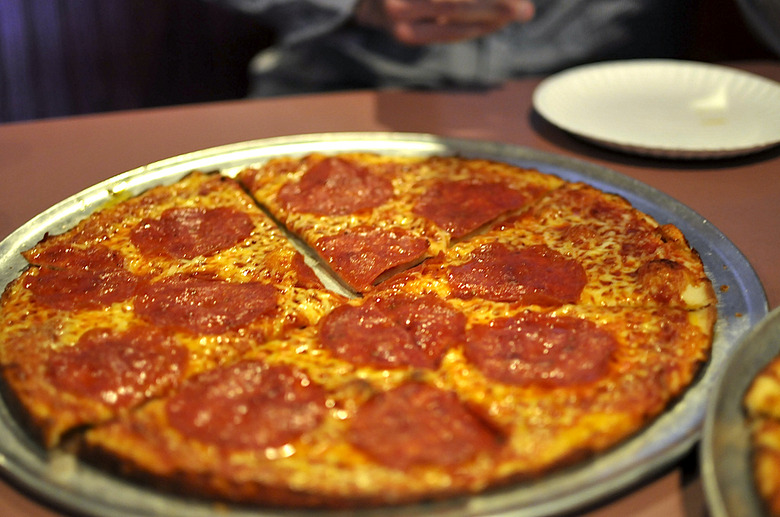 Forget the old-fashioned triangle slice. Mathematicians in England have figured out a way to slice your pie so that each slice is exactly the same size.
Try as we might to avoid the summer heat, the effort is futile. Behold, a pizza with some heat behind it: The cooling power of perspiration.
Colony Grill, a fixture in Stamford, CT, recently added a new location in Fairfield. Already familiar with Connecticut pizza from places like Sally's Apizza and Pepe's, I was eager to try this other pizza of repute.
Colony Grill takes an entirely different angle than the Italian-American New Haven standbys. Established as a bar and grill in 1935, it's now an Irish bar and pizzeria (there are shamrocks hanging throughout). That may seem anachronistic, but Colony Grill is famous for thin-crusted hot oil pizza, a style difficult to find elsewhere. Popular on pizzas in the south of France and other parts of Europe, hot oil is olive oil that's infused with red pepper flakes or chili peppers, a much better option than the lackluster loose red pepper flakes offered at so many pizza joints.
The menu is just a list of toppings painted onto the brick wall interior like a great mantra to be memorized: Meatballs, sausage, pepperoni, mushrooms, onions, black olives, cherry peppers, stingers (super-spicy peppers), anchovies, bell peppers, bacon and hot oil. My pizza of choice: Hot oil with anchovies.
The pizza arrives, cheese glistening and pockmarked with oil. The crust remains crisp, and the oil adds a subtle heat that enhances rather than obscures the taste of the pizza. If you want more heat, go for the jalapeño lying at the center of the pizza, which is Colony Grill's signature garnish.
---
More Pizza of the Week from Food Republic: