San Francisco Chefs 2011 Preview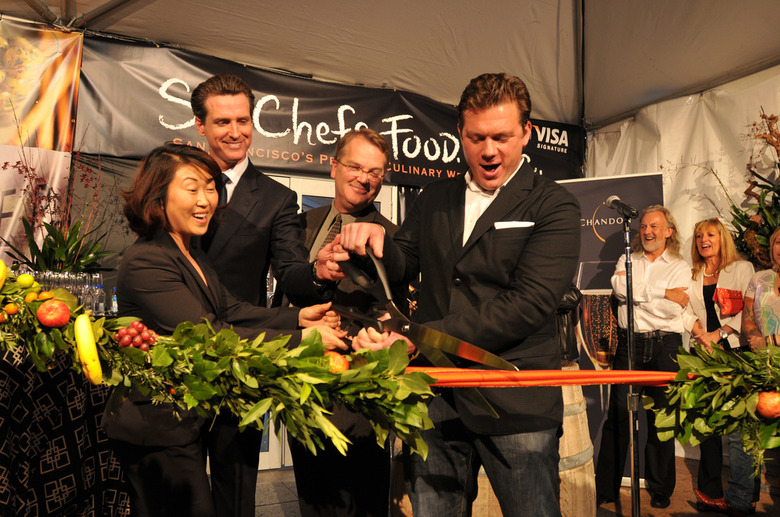 star chefs ribbon cutting
From the Bay Area and beyond, some of the best chefs, bartenders, winemakers and brewers have converged upon San Francisco for SF Chefs 2011, a weeklong blitz of tastings, classes, pairings and parties centered at Union Square. The action began last Sunday — a cocktail clinic and cable car tasting tour, among other happenings, are already old news. Today, however, the pace picks up. Over the course of four delectable days, more than 20 events will showcase the finest food and drink San Francisco has to offer.
Grand tastings on Saturday and Sunday (Friday night's is sold out) offer a smorgasbord of tasting opportunities under one roof, but the festivities don't stop there. After-hours parties Friday and Saturday keep the party going with still more bites, libations, and music. All day Saturday and Sunday, events and seminars combine intellect, art and taste with classes like Culinary Design: Palate Meets Plate, where color expert Kate Smith, chef Christopher Kostow of Meadowood, and food photographer Deborah Jones show you how to woo your dinner guests through the craft of presentation.
At Russian River Valley Pinot Noir: A Mosaic of Distinctions, guests can hone their knowledge of this esteemed wine region and the grape that made it famous. At the Four Star Family Meal, several celebrated chefs will provide their own secrets to teaching children to embrace tasteful, healthy eating habits. The event is billed as "family-friendly," while those seeking a more adult-themed experience might head over to the Anolon Date Night Dinner: Seduction in Three Courses, where participants will discover the subtle tricks of kitchen seduction and fine dining foreplay.
For details and a full overview of SF Chefs, visit the web at http://sfchefs2011.com/schedule/, and check back early next week on Food Republic for a report from SF Chefs 2011!