What Would Mark Teixeira Eat?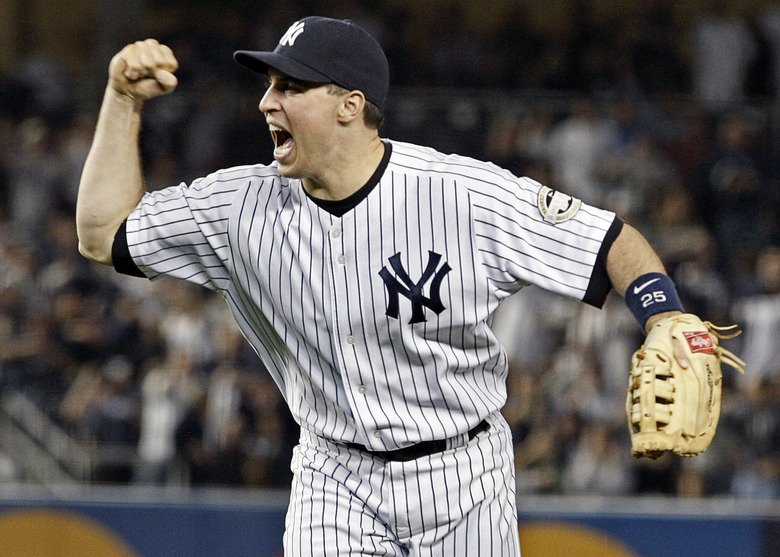 Photo: Courtesy New York Ya
A few hours before bashing home runs from both sides of the plate last night in the Yankees' 6-0 win against the Chicago White Sox last night, Mark Teixeira took a few minutes to talk to Food Republic about how he eats. We're not sure what he noshed on before slugging the monumental blasts, which set the all-time major league record for most games with a home run from each side of the plate — 12 — by a switch-hitter, but in general, Teixeira is a model eater.
Of course, being a Maryland boy, he's partial to crab cakes, and he'll eat the heck out of a pizza or a donut, but we have to agree with the big first baseman when he says, "The great thing about eating healthy is that once your body is accustomed to eating organic, healthy food, that's what you like to eat."
How far in advance of a workout do you eat? 
I eat about 30 minutes before a workout. It's important for me to have enough energy, but not be too full while  working out.
What's your workout routine when you're not in mid-season form?
In the off-season, I usually break my workout into 60 minutes of strength training and 30 minutes of cardio. This is usually 5 days a week.
Did you develop your routine or do you work with trainers and nutritionists?
I have a trainer I have worked with since 2007 and also have a full-time chef to prepare my meals based on my nutrition requirements.
Do you ever break from routine and eat like a whole pizza or something unhealthy if you hit a couple of dingers, just to celebrate?
I eat very healthy but also have a few cheats. One of my favorite things to do is take my kids for pizza and ice cream.
What are some of your favorite foods that are healthy and that you actually like?
The great thing about eating healthy is once your body is accustomed to eating organic, healthy food, that's what you like to eat. Processed or sugary foods make me sick and don't taste good anymore.
Any guilty pleasures?
Of course. I love donuts, I'll get some for my family once every week or two.
How do you maintain a proper diet when on the road? Are there are a lot  of temptations you have learned to avoid?
You just have to be disciplined and make good choices whenever possible. My chef makes healthy snacks for me to take on the road, so that helps.
What about alcohol, do you imbibe at all? 
I enjoy a nice glass of wine with a good steak dinner.
You played in Texas for awhile. Did you get into eating barbecue or Tex-Mex at all? 
I love Mexican food and I'll eat anything with homemade guacamole on it.
What about growing up in Maryland? Are you a crab cake expert?
I love steamed crabs and crab cakes. I laugh at fancy restaurants that claim to have "Maryland" crab cakes. The dive joint on any corner in Maryland has better crab cakes than any 5-star restaurant in the rest of the country.
Who's the worst eater on the Yankees?
Curtis Granderson eats whatever he wants and is still in the best shape of anybody on the team.
---
More sports talk on Food Republic: