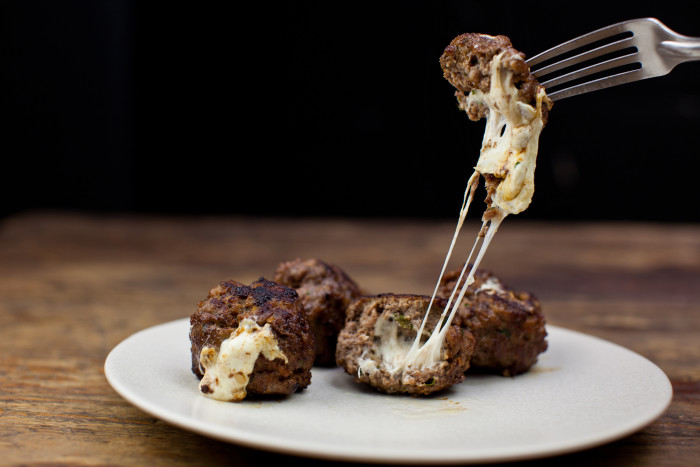 Here's the thing about stuffed meatballs: Nobody has to know they're stuffed until they're fork-deep, like the above photo. Is that a great surprise for someone, or what? Imagine everything associated with meatballs: Pasta, subs, pizza – are any of these made worse with the addition of molten mozzarella? Nope. All made better. Plus, they're as easy as making regular meatballs, but with the fun extra step of meat-sculpting. Oh yeah, did we mention what would happen if you made a meatball parmesan sub out of these stuffed meatballs? Like, whoa. Here's what you'll need:
1 pound

 

ground beef

1/2 white onion

 

finely chopped

1 clove

 

garlic

, finely chopped

2 tablespoons

 

Italian parsley

, minced
1 egg

1/2 teaspoon

 

kosher salt

1/2 teaspoon

 

freshly ground black pepper

1/2 cup

 

breadcrumbs

1/2 pound

 

mozzarella

, cut into 1-inch cubes

1 tablespoon

 

olive oil
Mix everything except the mozzarella and olive oil in a large bowl (don't overmix or your meatballs will be unpleasantly dense), divide into 8 portions, then follow these easy steps.