A Dinner At é By José Andrés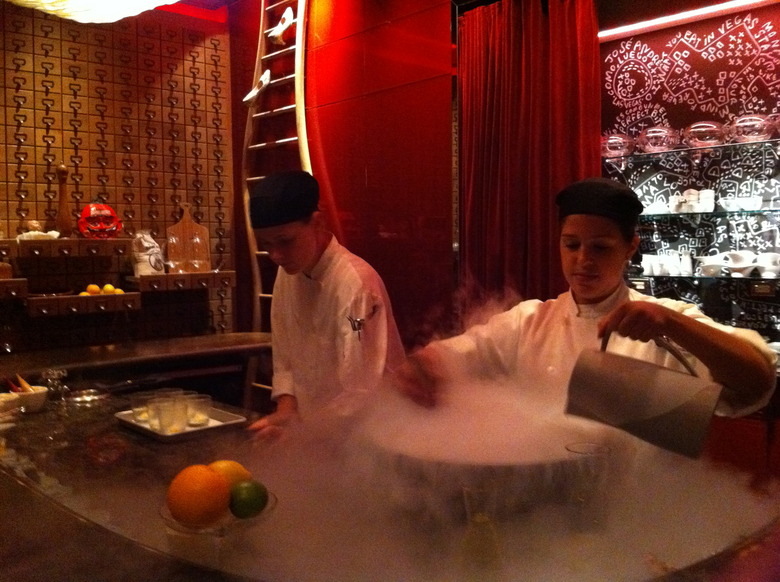 Some of the best restaurants in the world are hidden. Whether they're tucked away in a small village just off the Spanish Coast or out of sight on the second floor of a Beverly Hills office building, hidden restaurants can transform a normal night out into an unforgettable dining experience just by throwing a little adventure into the mix. Such is definitely the case with é by José Andrés, a tiny eight-seat restaurant with the best disguise we've ever seen: it's hidden inside another restaurant. Nestled in a back room of Andrés' Spanish flagship Jaleo at the Cosmopolitan Hotel in Las Vegas, é is worthy of being discovered.
Those lucky enough to snag a reservation (exactly one month in advance!) are sent a Willy Wonka-style golden ticket from "José and his wonder-makers." The ticket promises "culinary delights that you have not imagined, and cannot guess" unless, of course, you have access to the internet and read a description of the experience (like you're doing right now). It's just the first piece of an experience designed to feel like a magic show and magic is the name of the game at é. While nobody gets sawed in half, it's clear that not knowing what comes next is an integral part of the evening. As such, you don't even get a menu until the very end of the meal.
The room itself feels like the private sanctum of a magician, complete with a Dali-esque curvy ladder, walls that appear to be made out of an extensive card catalogue system, and a giant red curtain. It's clear right away that you're in for a show. Or a ritual sacrifice. But a show is exactly what you get. From the first course to the last, there is a theatricality to everything at é.
As soon as the staff is ready, they enter through — what else? — a hidden door and push the red curtain aside. Chefs scurry to and fro, liquid nitrogen comes out, and moments later you have your first course for the night: a "gin and tonic." Most of the food at é comes with quotation marks. The "gin and tonic" is more a loose sorbet than a drink but it hits the spot and sets the whimsical tone for the rest of the evening.
The first section of courses all fit under the category of "snacks." A raspberry-tinged Spanish "clavel" flower is served on a replica of Chef Andrés' hand while "beet jewelry" comes in an ornate box. The apple "Brazo de Gitano" (gypsy arm), a marshmallow-looking sponge cake tube has everyone gushing over the amazing bleu cheese espuma inside but the real star of the snacks is also one of the smallest: a tiny fried artichoke heart topped with a quail egg and caviar. Delicate and surprising, this dish encapsulates the type of food that we were served all night.
Main courses continue the theme of magic and surprise. The ajo blanco soup proves that almond milk makes a terrific substitute for cream and the chickpea stew is neither a stew nor had real chickpeas. Instead, the chickpeas are distilled into spheres and float in a broth of Ibérico ham that's studded with tiny lardons of Ibérico fat. The "rosemary mushrooms in papillote" course is actually morels gift-wrapped in a plastic bag that remind us of the preferred method of transporting goldfish won at a carnival. Luckily, the morels taste nothing like goldfish. Amid a meal of secrets, the final entrée course literally features one: secreto of Ibérico pork. This cut is the pork equivalent of skirt steak and gains its secreto status because most chefs stash it away for their own enjoyment. After eating it, we totally understood the impulse to hide it from the other diners.
Desserts arrive and, all of a sudden, a giant pan is on fire. Not to worry, though, it is merely the beginnings of the "Apples & Red Wine 'Fredy Girardet,'" a plate accented with a quenelle of vanilla ice cream and small spheres of apples sautéed in a red wine that reduces as it cooks. The dish is meant as a dig to Swiss chef Fredy Girardet, who isn't exactly the biggest fan of avant-garde cooking. The dessert with the most magic, in our opinion, shows up at the very end of the meal. It is simply called fizzy paper. Like something out of a mad scientist's lab, this "paper" fizzles away in your mouth and tastes like it had been doused in powdered Sprite. It was incredible and paired perfectly with the final course of the evening: another gin and tonic, this time without the quotation marks. It was an exercise in symmetry that proved there's a place for both the surreal and the classic when you dine at a magician's table.
When the meal was finally over, each diner was given a copy of the menu to take home. While its minimalist descriptions of the evening's courses may seem lacking at first glance, in retrospect, it's a perfect reminder of the magic you just experienced. We'd never want to find out exactly how each part of the evening was constructed, but it's nice to know the names of the tricks.
22 courses + 9 beverage pairings = $350, including tax
é by José Andrés. Cosmopolitan Hotel. 3708 Las Vegas Blvd S, Las Vegas, NV 89109. 702-698-7959.
---