Chef Steven Grostick "Cooks Michigan"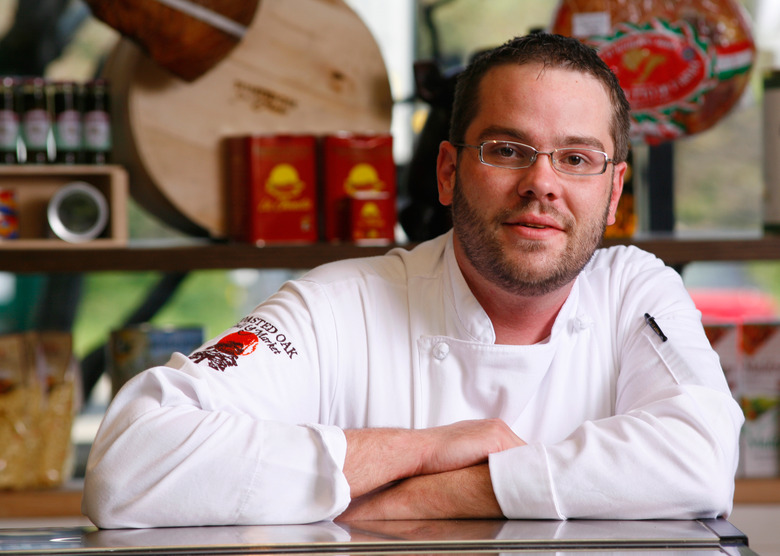 Steven Grostick
"Michigan" and "dining destination" are not often seen in the same sentence, but Steven Grostick, executive chef at Toasted Oak Grill & Market in Novi, MI, is determined to change that. Grostick's mantra, "I cook Michigan" leaves you wondering what "cooking Michigan" even means. As it turns out, it's a focus on local ingredients (and meats!) among other things, but more on that later.
Toasted Oak Grill combines an old world meat and cheese shop (picture sausages hanging from the ceiling) with a chic, locally sourced restaurant that features a killer kielbasa. The market part is not a mere addendum as one might guess, in fact it proves just as impressive as the restaurant, with an array of wines, local cheeses and homemade charcuterie.
Grostick recently came to the James Beard House in New York City to cook the first-ever Michigan-themed dinner there. His meat-centric menu even included a Coney Dog, which he will tell you, like a proud "Michigainer," originated in Michigan, not New York.
He took a break during his trip to tell Food Republic what Michigan food is really about.
What is "Michigan" food, exactly?
We're very eclectic in what we do. It's different — everyone is working on this farm to table trend right now, but in Michigan we take it to the next step. The farms don't come to us — we go to the farms.
So what does it mean to "cook Michigan"?
When Peter Karpinski, co-founder of Sage Restaurant group, and I first met, I said, "I cook Michigan." He responded, "Tell me about your cooking style." I talked to him about local ingredients and farms and everything I'm so passionate about. That's when we really clicked with the idea of the charcuterie and the cheeses and this old-world butchery shop. It's exactly what he had envisioned.
Did your family cook a lot?
When I went to culinary school I would come home at midnight or 1 p.m. after work and my dad would be sitting there with my cookbooks open going, "Hey, what's a 'ber-neese' sauce?" Of course my dad's completely redone his kitchen. It's all gas and beautiful now — after we all moved out.
How did you get interested in butchery and charcuterie?
My first class in culinary school was a butchery class and I thought, "Wow, this is awesome," and I decided I wanted to become a butcher. As I went on in culinary school I thought there is so much more to this than just the butchery aspect, with the charcuterie too and just everything that goes into it. I really latched onto it and I've been training ever since.
What is the concept behind Toasted Oak Grill & Market?
We are value-driven from the menu to our market. One of the great things about the concept is that we wanted to do a market with a wine shop. As you walk into the market, the first wine rack you see is of Michigan wines, and when you look to your right there's a charcuterie case — we make all of our own charcuterie — and a cheese case.
What are the most popular items on your menu?
I've worked on this kielbasa recipe for many years now and tweaked and played with it to get it just right. It's something we're known for at this point. It's our number-one selling dish to the point where we had it as an appetizer and it was so popular that I put it in a hot dog bun.
What about the "Great Frickin' Chicken"?
Anytime we change the menu we like to pass it by the entire team and see what works and what doesn't — that's how we progress and develop. During the final menu tasting for Toasted Oak Grill & Market, our co-founder Peter Karpinski took a bite of the chicken and then finished it all and stated, "That is a great frickin' chicken; I've had martinis that cost more than that!" That was it, we coined the phrase right then and there
Have your customers reacted positively to your focus on local food?
Absolutely. Being what Michigan is right now, we're kind of like New Yorkers in the sense that we're really proud of who we are, where we are from, and what we do.
In an article for The New York Times, Mark Bittman said food was the key to the new Detroit* — do you agree?
Absolutely, I've said for many years that Michigan is not a dining state. You wouldn't say, "Hey let's go to Detroit or lets go to Michigan" but at Sage Restaurant Group we want to change that and put Toasted Oak on the map and make people say "We've got to go to Michigan and check this restaurant out."
What about when you're not cooking...?
I'm a Michigan guy so hunting, fishing, camping. I'm big into Jeeps.
When we visit Michigan, where should we go?
Traverse City is an awesome destination — there's a lot to do out there. A great Italian place there is called Trattoria Stella. Myles Anton is the chef — he's awesome. That's one of my favorite spots to go when we're up there. It's actually built in an old insane asylum.
For all of us charcuterie lovers outside of Michigan — do you ship?
Yes we do, absolutely.
Toasted Oak Market and Grill, 27790 Novi Rd, Novi, Michigan. 248.277.6000
---
Inspired by Chef Grostick's charcuterie talk? Try your hand at his venison jerky recipe.