What's The Deal With Shark-Fin Soup?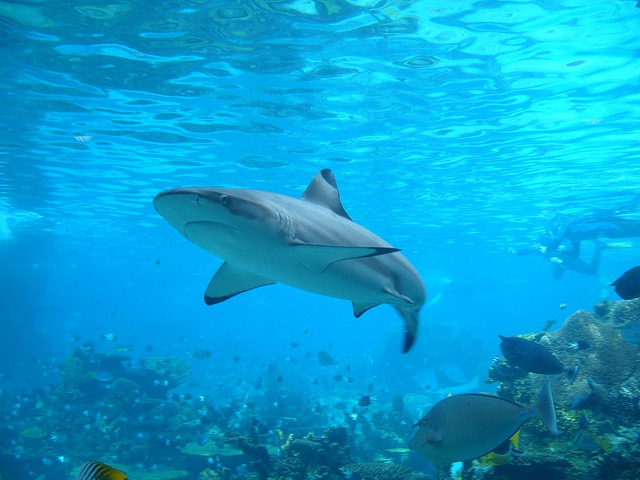 Shark
It's Shark Week on Discovery Channel, so it's a good time to consider the fate of shark-fin soup.
The dish, an indulgence that has grown in popularity in China along with the burgeoning country's taste for luxury goods, is increasingly under fire because of the declining population of sharks. A recently enacted ban in Hawaii signals that it may be more difficult to come by in US restaurants, at least, as the outcry against the dish and the practice of finning sharks grows louder.
To obtain the fins for shark-fin soup, those catching sharks usually remove the fin, then toss the shark back into the water to either drown or bleed to death. The irony of shark-fin soup is that, as inhumane as this practice sounds, the fin doesn't offer much taste; it's more prized for its texture.
Nevertheless, due to declining shark populations and increased activism, laws are being passed around the US to ban shark-fin soup from restaurant menus. On July 1 Hawaii banned its restaurants from serving shark-fin soup, with fines of between $5,000 and $15,000 for those not in compliance, becoming the latest and perhaps most important state to do so. According to Senate Bill 2169, which was passed in 2010, shark fins cannot be sold, distributed, traded or possessed in any way. In a round-about way, this means there is no way a restaurant can serve shark-fin soup. A clause tacked onto the bill allowed restaurants until July 1 to either dispose of or sell existing shark-fin inventory.
Hawaii isn't the only U.S. state taking a stance. Washington State also bans shark fins. Bills are currently in the works in California and Oregon to follow suit.
Still, it may be awhile before shark-fin soup goes the way of other dishes that highlight endangered or inhumanely captured ingredients. Its exoticism makes it akin to foie gras or Kobe beef, with prices to match. Prices can reach $100 a bowl for shark-fin soup in some of the finest restaurants around the world, including Hong Kong and New York City.
Mr. Chow — that swank modern-Chinese restaurant with locations in London, Beverly Hills, Vegas, Miami and New York City — was called out on Change.org and asked to drop shark-fin soup from its menu. The activist site put forward a petition demanding Mr. Chow to stop carrying the dish, which it serves for about $14-$18. (Golden Unicorn, another Manhattan restaurant, is the target of a similar campaign from Change.org.)
In search of justification for serving this dish, we phoned Mr. Chow's Midtown restaurant (on 57th Street; there is another Mr. Chow in Tribeca) and spoke with the manager. He insisted that Mr. Chow's "shark-fin soup" is an imitation, though he declined to offer details, citing the chain's policy of not disclosing recipes.
Still, it may be awhile before the soup disappears from menus completely. In January, President Obama signed the Shark Conservation Act of 2010. While it doesn't ban the capture of shark fins, it does prevent the practice from happening at sea. Captured sharks must have their fins attached — to avoid the practice of importing thousands of shark fins each year. A practice that would in turn mean that there are, consequently, an equal number of dead sharks in the ocean.
For more on sharks, check out Shark Week all this week on Discovery.
---