A Lunch At Oyamel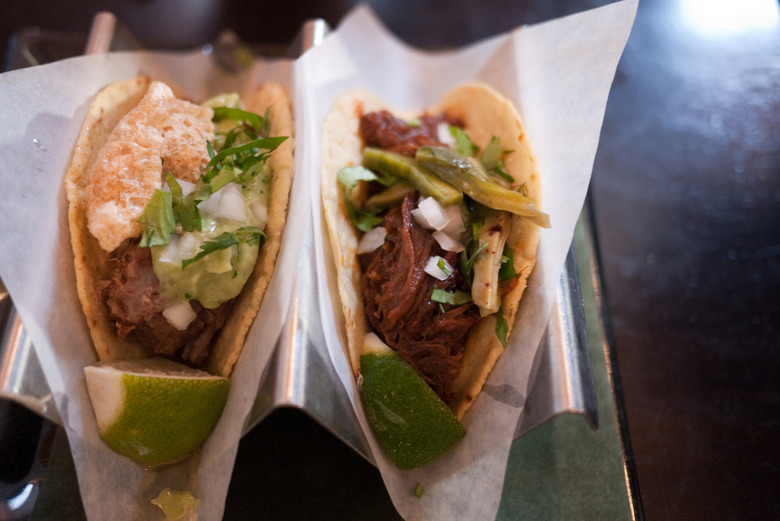 Visit: If you like regional Mexican cooking; tiny tacos don't bother you; you love tequila!
Avoid: Boring re-fried beans; grasshoppers as a foodstuff
As somebody who visits Washington D.C. less often than Moammar Gadhafi, I'm not that plugged into the scene. So I'm not judging the city at all — there are plenty of fine spots, many that I've already tried out in NYC (Hill Country, Luke's Lobster, Palm) and many others, including a bunch spearheaded by the larger-than-life Spanish conqueror José Andrés.
On the recommendation of a regional restaurant vet (my sister-in-law, from Richmond, VA), I hit up Andrés' Mexican cantina and tequila bar Oyamel Cocina for an early Saturday lunch. Mya — who had steered me away from the renowned but in her words "just shitty, period" Ben's Chili Bowl — promised a more up-market take on Mexican street cooking, with a flare for ceviches and creative drink mixing. Being a little too close to egg o'clock, we skipped the ceviches completely. They did look promising — crafted from behind a six-seat bar. Red snapper and Australian yellowtail are done up with bursts of acid and fresh salads, the latter with hearts of palm, cucumber, passion fruit and vanilla. Instead, we went for a sturdy plate of chilaquiles, the hangover-curing Tex-Mex scramble that is not too far off from migas. (Though Mexican food enthusiasts will likely beg to differ.) Further investigation required. The plate was a big hit — spicy with house-made chorizo and balanced out with Chihuahua cheese and fresh eggs.
Rewinding a bit, the guacamole that was made "right before our eyes" — as the menu advertises — had the zip of serrano chilies and smoke of a green tomatillo salsa verde. This was a nice start with the El Diablo margarita/mule spin (a blend of reposado, cassis, lime juice and ginger beer foam). Service lagged, unfortunately, and dishes started arriving with no real organization. A chicharrones quesadilla was four rich bites of Shenandoah Valley pork belly and crispy skin rolled in a fried tortilla. We should have ordered x 3.
Fifteen minutes later, our tacos arrived. Some lines about the tacos — they are priced per-taco ($3.50-$5) and are small. That said, order four and you're set. You can travel all over Mexico with your selections. Birria (advertised as Guadalajara-style) is less goat-y when teamed with hunks of veal and lamb. I would have preferred all-goat, personally. The sauce of cascabel, ancho and guajillo chilies added plenty of heat. There are Oaxacan grasshoppers available if you want them. I call this out as the parlor trick that it is — dried grasshoppers are earthy in the worst sense of the term. They taste like dirt. Skip. But go for the fish taco made with walu (fleshy, similar to Hawaiian butter fish). It was perfectly fried and fresh — aided with a cilantro-avocado sauce. A $6.50 side of refried beans was a snooze. The chicken tamale was not unlike a steamed pouch you would find in Corona, Queens. Though, no husk in sight. Always love the husk. We're pro-husk.
Andrés, a native of Spain, and head chef Joe Raffa have done their homework with a 50-plus item menu that we could see ourselves going back to time and time again. And if service had been on the ball, we might have even ordered more. And the few stumbles were small. And that tequila drink made us happy and warm. And our friends were getting married that night. A good day.
Oyamel, 401 7th St NW, Washington, DC 20004, 202-628-1005, oyamel.com
---
Have you been to Oyamel? What's your take on it? Tell all in the comments.