Food Apps Take Aim At Healthy Ingredients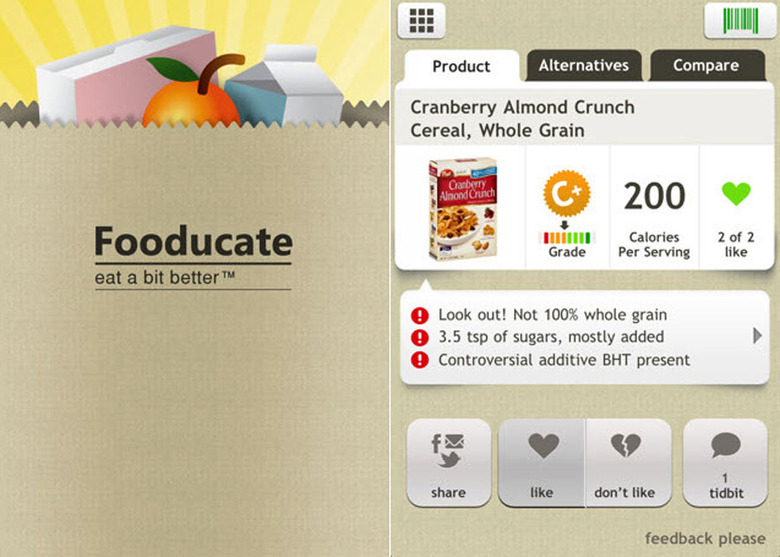 Fooducate page
When his 8-year-old twin girls were just babies, Hemi Weingarden's wife came home from the grocery store with a berry yogurt for them. Weingarden opened the container and poured the yogurt into a neon bowl, only to see that the yogurt itself was brighter than the bowl.
"It was basically glow in the dark," he says. "For the first time in my life I read the ingredients on the label."
He didn't like what he found. One of the ingredients was something called red number 40.
"I Googled it and it turns out red number 40 is a carcinogen that causes hyperactivity, and Europe has stopped using it but the FDA hasn't done anything," he says.
This shock prompted an interest in the food industry, and Weingarten started writing a blog called Fooducate to share his findings. The next step was an iPhone and Android app, which has been listed by various tech websites as one of the best health and wellness apps.
The Fooducate app is one of many nutrition apps that aims to help consumers make informed decisions when buying dinner at the grocery store, with some focusing on specific attributes of food and incorporating user-generated data as well as technological aids. For early adapters, it's now possible to scan a barcode at the grocery store and discover whether the claims on the label correspond with facts — not to mention the overall consumer experience with the product.
Fooducate, for instance, shows users who scan the barcode of a product a food "grade" (on a letter scale between A and D), nutritional information and comparable alternatives.
The app is free and its data comes from all of the information that Weingarten and his team have generated over time. Additionally, they ask for the help of users to fill in the missing gaps: if someone scans in an item that Fooducate doesn't have listed, it asks users to snap a few photos on scene, and then the five-person Fooducate team will wrestle up the appropriate nutritional information for future use.
There are other players in this new market for better food information as well. Foodia, for instance, is driven by user-generated information. Though only a web-based application currently, the tool lets people rate their favorite products and suggest different recipes; Foodie also leans heavily on social media.
"We've done a good job of penetrating the market of diehard foodies who look at their social networks and who are very open to using technology to discover new food," says Foodia founder Max Haines-Stiles.
The just-launched Consmr also places a heavy emphasis on consumer-generated reviews and insights.
"Its really all about getting this crowd-sourced information and being able to share that with your peers," says founder Ryan Charles. "I feel like we're squarely focused on all the information that users submit that ranges from not just nutrition but [ideas like] how did their kids react to the product."
Going beyond mere consumer experience, some apps set out to chronicle food companies' misdeeds or their commendable efforts, rating things like eco-friendliness to pesticide use. The charity Environmental Working Group has apps called The Dirty Dozen and The Clean 15, which identify the average pesticide levels in fruits and vegetables. The Locavore app uses the GPS technology on phones to tell shoppers what is in season in their area and provides them with recipes that highlight those flavors.
Shop No GMO is an app, produced by a charity called The Insitute of Responsible Technology, that focuses on one aspect of the food we eat. The specificity of the app hasn't hurt its popularity though; the group claims to have thousands of clients who have downloaded the app to mobile devices. The creator, Jeffrey Smith, is an expert on genetically modified foods, and he says that this app is a way to help shoppers fill in the gaps for what is missing on the ingredient list.
"When people learn about how dangerous these gene-spliced foods are, or when their doctors prescribe non-GMO diets, having the choices clearly spelled out is very important," he writes via email. "Since there is no required labels for products containing GMOs, people like the help of having thousands of non-GMO products listed by category for them."
All of the apps are attempting to take the shopping experience and simplify it for the average consumer.
"Coming out of the recession, people are researching food and drink and health and beauty products at an increased rate," says Consmr founder Charles. "I wouldn't go to a restaurant or I wouldn't go to a movie without looking it up first. There is an opportunity to crowd-source everyday consumer products."
---
What apps do you use to rate products and eat healthier? Let us know in the comments.