A (Sweaty) Three Day Wedding Feast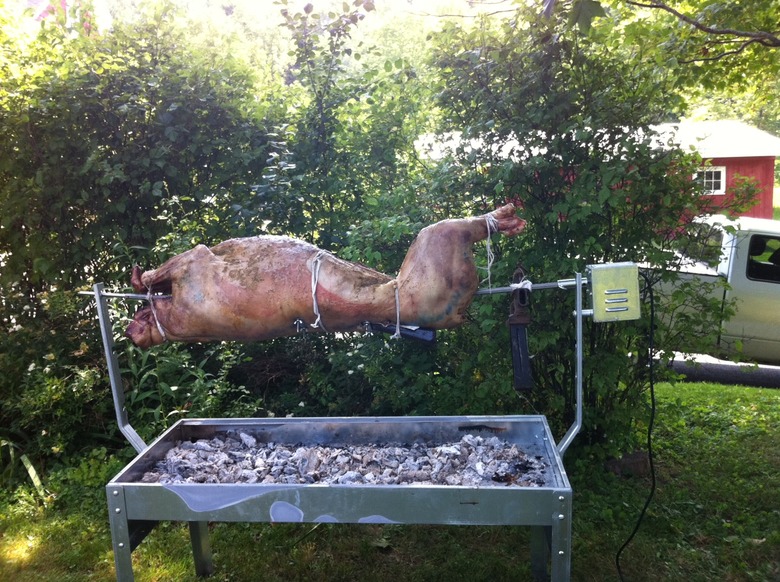 We just came down off of a three-day celebration of love, family and food. It was a wedding. And one helluva wedding at that. It's so fresh in our minds, in fact, that we're compelled to write about it. That we were intimately involved in many of the steps of the planning and execution may have something to do with the reason we can't get it out of our heads...maybe. As we tried to collect our thoughts and search our addled brains for the savory bits of the weekend's throwdown, Jori Jayne came upon this passage that outlined a wedding feast from the 18th century. We thought it an appropriate prologue for our column, as it seems that even centuries have not much changed our approach to the big day.
"A Three-day Wedding Feast
 in Stonington, Connecticut, in 1726, Temperance Tealleys was wed to the Reverend William Worthington from Saybrook. Because of the large number of guests expected, a two-day celebration was planned. Elaborate advance preparations commenced for the feast. Chairs, tables, dishes, and utensils were borrowed from the neighbors. Following the marriage ceremony...tankards of spiced hard [alcoholic] cider were passed...The main course was family-style and consisted of fish or clam chowder, stewed oysters, roasted pig, venison, duck, potatoes, baked rye bread, Indian cornbread and probably pumpkin casserole. A dessert of Indian pudding studded with dried plums and served with a sauce made from West Indian molasses, butter, and vinegar followed. And they did have coffee. The tablecloths were removed and trays of nutmeats and broken blocks of candy made from maple sugar, butter, and hickory nuts...Outside the front door stood a gigantic punch bowl, hollowed out from a boulder, filled with hard cider combined with West Indian products such as sugar, lemons, and limes...After the dignitaries and most honored guests were served on the first day, and after the bride and groom left on horseback for Saybrook, there was a second day of feasting for the second-rated guests. The third day of feasting was a surprise, for some friendly Mohawks and Pequot Indians appeared...and more chowder and roast pig were served to them. (Information courtesy of the Stonington Historical Society.)"
The hottest — and I mean HOT — ticket in the Hudson Valley in the summer of 2011, some 385 years later after the above passage, was, without a doubt, the wedding between Eva Pelaccio and Gabriel Ross (of Brooklyn, NY), catered by the Fatty Crew at the Pelaccio Farm in Old Chatham, NY. The OC was the place to be for three days of drunken revelry on a weekend when sweltering, stagnant heat set record high temperatures in New York City, some 80 miles to the south.
At first I was skeptical about agreeing to cater my sister's wedding as I had the suspicion that the stress of the job would preclude me, and therefore Jori Jayne, from enjoying myself with friends and family. To my relief, The Crew, led by Kevin Pomplun, managed things without a hitch. On the day of the party, they allowed this old boy and his younger, sexier, better half to truly enjoy themselves and participate (read, sweat and drink and eat
|) in the grand festivities.
The Valley was abuzz with talk about this event, as this was the first off premise wedding catered by the Fatty Crew in the Hudson Valley since the still-talked-about Schrom wedding in Ghent, NY in 2005. It is known far and wide that The Crew loves to party; the Fatty Fests that have taken place over the last few years are legendary and conjure images of giant crab boils, pig fat dripping between the toes and swigging from bottles of Pappy Van Winkle. While this wedding was sure to have the same level of decadence, depravity and debauchery as a Fatty Fest, it included more complexities, more formal food, much more class, better outfits... and more tents!
Throughout the weekend, The Crew did have some collaborators. The first night — a night for all who made the trek, near or far — we enjoyed cheese form Sergio Hernandez, partner at the Brooklyn Larder; meats from Matthew Rubiner of Rubiner's in Great Barrington; and an opulent spread of beef, salads and wild striped bass from Melanie Hunt.
The real feast, however, began the next day, post-ceremony, with two hours of poolside appetizers, sangria, wines from Michael Skurnik and Savio Soares... and gallons of water as we waited for the searing sun to set.
THE MENU:
spicy, sweet and sour Berry Farm green bean "tom tuah"
tuna "poke" in honor of the years Mrs. Pelaccio spent living in Maui
pork belly and watermelon skewers with Pemde garden Thai basil
grilled sardines on toast with chili aioli
smoked Holmquest Farm's eggplant "nam prik" with vegetables form throughout the Valley
grilled and chilled shrimp with a smoked cocktail sauce, reinforced with freshly dug Pelaccio garden horseradish root
lighthouse diver scallop crudo with yuzu, celery, olive oil and Pemde garden bush basil
crab salad on toast with chili and flowering wild thyme
Fatty "sangrita" shooters with French Kiss oysters, kaffir lime and fish sauce
garden beets with Four Brothers yogurt and smoked honey
pork and lemongrass meatballs with Lady Jayne's Hot! Mustard
This was followed by a much-needed walk to the main tent, where a 24-hour smoked 250-lb. Tamworth pig from Heritage Foods USA rested in all its shiny, sweaty, smoky mahogany largesse on top of a wide plank of barn wood. Steve Haritopolous of Fatty 'Cue presided over the pig, pulling succulent chunks and seasoning them with a smoked fish sauce and palm sugar sauce.
Local tomatoes were dressed with sherry vinegar and wild chives.
Mountain Sweet Berry Farm's potatoes were tossed with fresh garden garlic, Pelaccio Farm young onions and mustard seed.
Smoked Bobo chickens were served with minced cucumber, chili, ginger, shallot, garlic and lime juice.
Stayron's sweet corn was quickly grilled, sprinkled with chili/sugar/salt and slathered with a peach compound butter. The greens came from Brooklyn Grange, Battery Park, Little Seed Farm & the Pelaccio Farm. A selection from farm and wide!
We bought a local 80-lb. lamb and started it on the spit early that morning. The night before we had managed to secure it to the spit in preparation for a big day of prep. In the morning, it took us a while to get the motor to complete a full 360-degree turn, as the lamb was a bit heavier than said motor was built to take. But between three or four hungover minds, we rigged a system of counter-weighting the lamb using an antique clamp found in one of the barns and a couple of wedges commonly used for splitting logs. They are now well-tempered and basted tools. The lamb was basted with green chili, olive oil, salt and garlic. The requisite spiced and seasoned Greek yogurt sat beside the lamb as John Petry sliced tender morsels for salivating guests.
Farro salad mixed with wild ground ivy, yarrow, lemon juice and olive oil and tender rolls provided some starch to soak up all those meaty juices.
And, of course, no meal should go without the garden pickles: cucumbers, okra, radishes and much more.
Ryan Butler of Mary Queen of Scots and Highlands made a light and delicious wedding cake decorated with local berries, the perfect sweet conclusion to the night's abbodanza... that is, until the late night piggy sandwiches started rolling out!
As at all good parties, the night ended with tequila shots and drunken golf cart driving, but that is another story and this is a family column (at least today)....
Family, friends and all other kind souls who were weakened by the previous night's indulgences returned in the morning to swim and feast on pastries, breads, salads and, Bloody Marys, more wine and more pig, until the sun set and the sky darkened... leaving only quiet fields and well-feted, contented newlyweds (and a lot of random empty cups strewn across the property).