The Whataburger Couple Soldiers On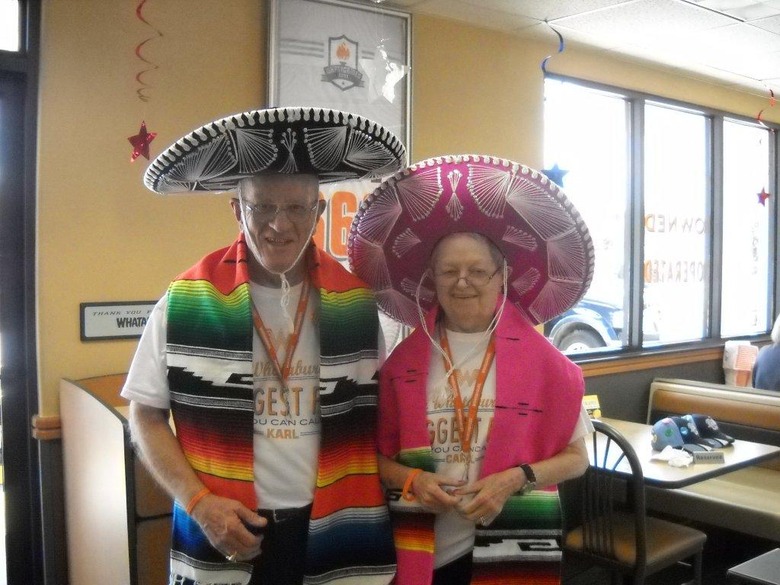 The first time I ate at a Whataburger was in Dallas four years ago. I'd stayed at a Marriott near Southern Methodist University, and when I woke up I needed some fuel for the stomach before I began my drive back to Austin. It was relatively early for a Saturday around SMU during the school year, and the Whataburger just off Route 75 was still serving breakfast.
Which is what made this occasion so memorable.
I walked in and looked behind the counter to find that the Whataburger employees were using real eggs — like breaking the shell and frying a legitimate yolk. It was unlike anything I'd ever seen in before in a fast food joint. That's when I realized that there was something special about Whataburger.
I've since eaten at Whataburgers a handful or two of times, which means I have about 9,990 more trips to make before I can even think to consider myself a fan in the same vein as Rockport, TX, couple Karl and Carol Hoepfner. The retired Master Sergeants in the US Air Force last year earned distinction as Whataburger's Biggest Fans, and they've since made it their mission to visit all 722 Whataburgers in the country. So far they've hit 225, so there's a fair amount of work to be done. Fortunately, they've got a lot of free time — and a never-ending hunger for ground beef.
Mr. Hoepfner was kind enough to put his hamburger down long enough to talk about his and his wife's super-sized challenge.
Are you really serious about visiting every Whataburger?

We'd like to. We eat our regular meals there — breakfast, lunch and dinner — wherever we're at. It's always at a Whataburger whenever we're on the road. And we'll visit sometimes up to 20 in a day.
What has you on the road so often?

We just like to travel. We've been all over the world. We're both retired Master Sergeants out of the Air Force. In fact, we retired in Austin when they had Bergstrom Air Force base there. My wife was an Air Reserve Technician there, and she retired when they closed the base.
Was there a point in which you realized that you'd been to a whole lot of Whataburgers and that visiting the full extent of the restaurants was a possibility?

Well, it wasn't until we won the title [Whataburger's Biggest Fans, November 2010] that we thought about anything like this, but what really brought this about was that Carol had a rare form of eye cancer diagnosed back in December, and we had to spend 23 days in Houston for her radiation treatments, which were all in the evening. So we decided during the day, I said, "We're not going to sit around the apartment and just watch TV. Let's go visit some Whataburgers." That turned into 90 Whataburgers in the Houston area, and we decided, if we're gonna do one, why not do them all? So here we are.
What is the extent of Whataburger's reign? How far will you have to travel to get to all of them?

They're in 10 states from Georgia to Arizona. There are 597 in Texas, unless they've built a couple since we started, and there are 125 in the other nine states.
Which states have you reached so far?

Just Texas. We have a trip planned for later in October when it cools down. We're going to go to all the ones in Arizona and New Mexico.
What kind of reception do you receive when you arrive at a store? Is there a lot of fanfare?

Oh, yes. One of the people in Corporate will usually let the restaurant know that we're coming a day or two ahead of time, and they go all out. Each store tries to outdo the others in the gifts and presentations and ways in which they'll receive us. It's fantastic. You have to be there at one to see what I mean.
What is it about Whataburger that separates it from the pack? You obviously have a lot of fast food options in Texas, but it seems as though you've found your favorite and decided to stick with it.

Back in the '60s when we first discovered Whataburger, we were stationed in San Angelo and the Air Force pay wasn't that great, so you looked for a place that gave you a good meal for a great price. We found both in Whataburger, so we stuck with it. When we retired in Austin, our daughter Carla and our son Chris worked at the Whataburger on Manor Road. Chris was the Employee of the Year at Whataburger, and he now manages a Target store in Lufkin, TX, and he says that the training he received at Whataburger benefits him now.
Do your orders vary, or will you always get the same thing?

I like to mix it up, but Carol will order the same items. When we walk in in the morning, as soon as we hit the door they've already rung up one pancake for her. At noon, she always says, "One Whataburger, grilled onions, and toast your buns." And I like everything. My favorite is a Whataburger with grilled onions and grilled jalapeños, and toast my buns, too.
Does one Whataburger stand out over the rest?

They're all different, and to be honest with you, I don't want to answer that question because I have to be diplomatic. If I say one is different from the others then the others would say, "Well, what about us?" They're all great stores, and Tracy will tell you that the franchises are on their own to furnish the places, and they really do some fantastic things.
I'd be remiss if I didn't ask you about the ketchup.

That's the best ketchup in the world. We used to pack boxes for the troops in Iraq and Afghanistan, and I'd always go by Whataburger and grab several dozen of the ketchups and included them in the sack and boxes to send to the troops.
---