McDonald's Revamps The Happy Meal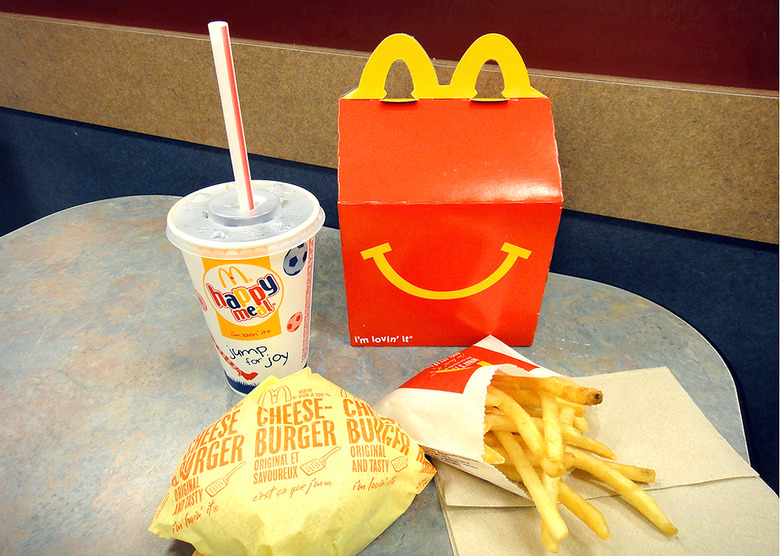 McDonald's Happy Meal
French fries will have to make room for apple slices when the iconic McDonald's Happy Meal undergoes a nutritional makeover this fall. As a result of pressure from health and children's advocacy groups, McDonald's will downsize the fries portion in Happy Meals from 2.4 ounces to 1.1 ounces and will automatically include apple slices in every meal. These changes will result in 20% fewer calories in the most popular Happy Meal combos, according to McDonald's. Additionally, McDonald's plans to reduce sodium in all menu options by 15% — albeit with a deadline of 2015.
Apple slices have been a Happy Meal side choice since 2004, but their popularity has been modest at best. Only 11% of customers who order Happy Meals opt for apples instead of fries, despite the fact that 88% of customers are aware of the healthier option.
McDonald's current focus on nutrition aside, the fast food giant is still conspicuously absent from the list of chains that joined the Kids LiveWell initiative, launched this July by the National Restaurant Association. Participants in the Kids LiveWell program must offer dining options that meet the 2010 USDA dietary guidelines. As a result of the initiative, Burger King is no longer serving fries automatically in children's meals. McDonald's has said it will possibly join the program in the future.