Pulled Pork 15 Ways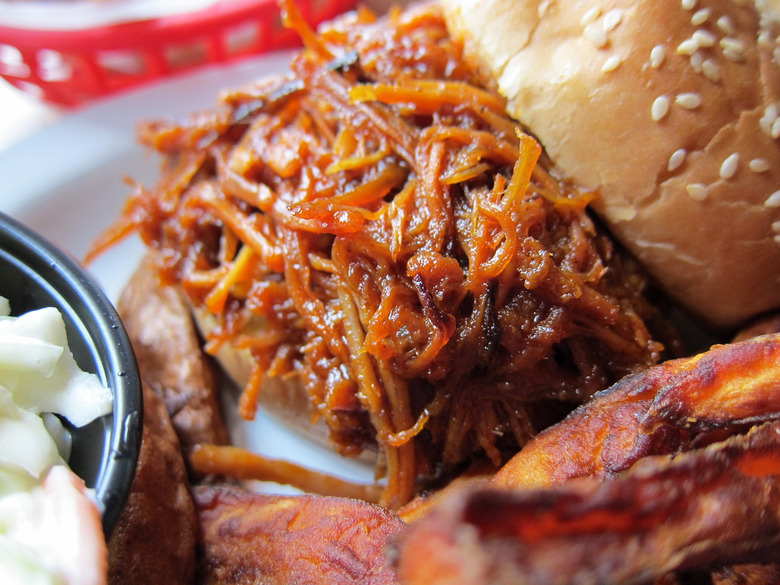 pulled pork sandwich
Pulled pork sandwiches are one of the most thoroughly satisfying meat-eating experiences we can think of. And we're definitely not talking about Subway's recent "development." Over the weekend, Food Republic had the great pleasure of attending Meatopia, love child of carnivorous writer and book author Josh Ozersky and a medium-rare ribeye.
There was chicken. There were ribs. There were bellies, ears and trotters. There was sausage in abundance. There were more whole roast animals than you could shake a stick at (but don't shake sticks at whole roast animals, just eat them politely). I ate a duck testicle that was so good I'm off breasts for life. And the brain of Floyd Cardoz's whole roast goat, which he nonchalantly handed me on a compostable fork like it was a piece of broccoli, was sublime. Where was I? Oh, there were gyros, steaks and shoulder. Some of the shoulder was pork. Some of that pork shoulder got smoked, pulled, doused with sauce and stuffed into crisp, rustic sandwiches, fluffy Chinese bao and, in more than one instance, eggy, soft and highly absorbant buns.
These are the sandwiches we came to Meatopia for (also duck testicles and goat brains, apparently), garnished with something crunchy like cole slaw or pickled, such as okra, finished with a final squirt of sauce and handed to you by the restaurant's chef him or herself. They were all so good we're suppressing flashbacks of the meat sweats (which we've discovered, to our great surprise, are not real but rather the easily ignored product of eating vast quantities in 101-degree heat). We want that same pleasure for our readers, so find the best pulled pork outside of a $5-footlong and have at it.
Apologies for the giddy excitement we hope is evident in this post; we're still coming off the good stuff.