Anne V.'s Best Man-Cooked Meal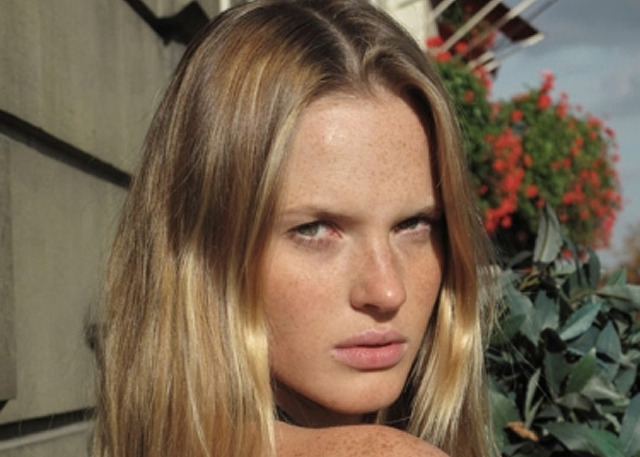 Anne V photo
There's no Triple Crown for models, but if there were, Anne V would've nailed it. The sexy Russian stunner is a Victoria's Secret and Sports Illustrated swimsuit regular, and she upped her stardom onscreen, appearing in two very memorable videos for her boyfriend Adam Levine's band, a little outfit called Maroon 5.
The blonde-haired, green-eyed 25-year-old, born Anne Vyalitsyna in Russia, may be a model, but she loves her food. And she, like most women, appreciates it when a guy tries to woo her with a home-cooked meal.
What's your best man-cooked meal?
Unfortunately not too many of the men I've dated have been foodies. But there was one that stands out. My boyfriend at the time was a good cook, and he made me fish in the oven with my favorite vegetable, Brussels sprouts, and we had a bottle of wine. We had dinner outside. It was a perfect type of night. That was the most memorable dinner.
Why?
For every woman there's nothing sexier than a man cooking their house. Knowing a man can cook is romantic...
How about your current boyfriend?
My boyfriend is not a good cook, and I'm not really a good cook either, but we try together. And he's great at breakfast. He's the most amazing omelet maker, and he makes the best scrambled eggs. He doesn't put milk or anything in them. It's so cute and romantic — he always cooks breakfast for me.
You like it when a man lets you sleep in...
Absolutely. But I like to take control, so even if he's cooking I'm always cleaning up and doing something. I love being around the kitchen. It brings you closer in a relationship.
Are you a big fan of Russian food? Do you like borscht?
I like borscht. I love any Russian food. Especially if it reminds me of my family's cooking at home. I don't go to a lot of Russian restaurants because they're so heavy. I went pescatarian in the last two years, so I don't eat a lot of meat. I'm obsessed with sushi. The best is in LA. Sushi Nozawa. You're in and out of there in 15 minutes but it's truly the best. It's not a very romantic meal.
What makes cooking sexy?
Anything that guys are trying to do when they're not asked or forced to is very romantic and sexy. The kitchen isn't typically thought of as a man's territory, so when they try to cook for a woman, it's a sexy thing.
What would be the most romantic dinner?
Al Green or Marvin Gaye on the stereo. Some candles. Maybe a fireplace going. We live in the Hollywood hills so looking at the stars and the view is beautiful. That's for me. For guys the perfect dinner would be barbecuing on the grill with their buddies. We're so cliché, haha.
In Maroon 5's video for "Never Gonna Leave This Bed," you ride around in a glass cage with Adam, wearing only men's underwear. Who suggested that?
It was my idea. My boyfriend and I went to wardrobe. I always sleep in his underwear and t-shirts. I feel sexiest because it makes me feel like I'm close to my man. There's something so wrong about it, but there's something so right.
---