Romana Benicci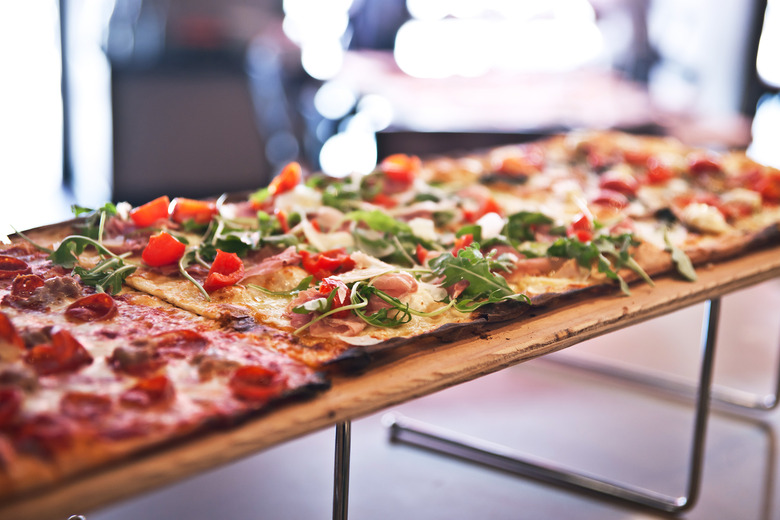 pizza romana
San Francisco doesn't necessarily conjure up visions of pizza. I mean, this isn't "super tasty bread of the week" or "large volume of excellent Chinese food of the week." We assume that's just one of the reasons San Fran pizza kings Bruno DiFabio and Tony Gemignani of famed Tony's Pizza Napoletana, along with restaurateur Hans Canko, have set up shop in New York City's West Village, slinging crisp, authentic Napoletana, Sicilian and Romana pies at new eatery 900 Degrees.
Wood-oven master DiFabio is no stranger to the intricacies of the pizza world. The only way to become a 13-time medalist in the World Pizza Games/ Pizza World Championships is to hail from a family of Italian immigrants with a major passion for food. As if that wasn't enough, DiFabio, along with his business partner Gemignani, co-founded San Francisco's International School of Pizza to share the art of pizza mastery with all who wish to learn.
If you've never had pizza Romana, now's the time to try it. 900 Degrees' Romana Benicci brings 2 1/2 feet of the following toppings to the table (separated by section): Pepperoni, sausage and mozzarella; ricotta, garlic, prosciutto, peppers, argula and piave (similar to Parmesan); and pesto, caramelized onions, robiola and roasted tomatoes. Hopefully, you're hungry.
Here's the best part: It's not three amazing pizzas of the week, it's just one ultimate spread of everything we've ever wanted from a pizza, all together in one happy Italian family. Welcome to New York, San Francisco.