Ludo Lefebvre: Don't Call It A Pop-Up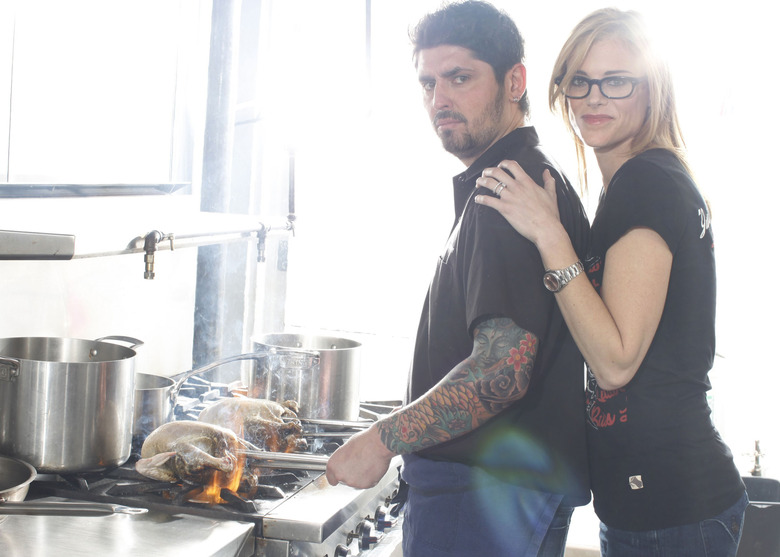 Ludo Lefebvre of Ludo Bites America
"When I see people pop-up one night here, one night there, it's bullshit," says Los Angeles chef Ludo Lefebvre over rum drinks in a thick Burgundy accent that doesn't hint 16 years in the U.S. (So it was more like boolsheet). He was in NYC for a day to promote his new show on Sundance Channel, Ludo Bites America. His wife and business partner Krissy was seated next to him, dutifully translating both French-to-English and Ludo-to-English, as the chef explained the proper usage of the term pop-up. For the record, he prefers "guest chef" for one or two day events and "touring restaurant" for his more-involved concept.
Ludo knows a bit about the topic.
As the man behind a series of six pop-ups (sorry, we're sticking with the term), he's gotten numerous celebrities, food bloggers and Sam Sifton to scramble for a coveted reservation in out-of-the way neighborhoods like Sherman Oaks and a park on East Ninth Street in Downtown L.A. The Pulitzer Prize–winning critic Jonathan Gold called Lefebvre's cooking "thoroughly modern" in a king-making review that deemed his cooking "post-molecular gastronomy" and soon brought the big time crowds. It's a story that Krissy proudly recalled — demand for a reservation was so high for the upcoming 7th interaction that the Open Table servers crashed — causing the reservation company to issue an open apology.
During our conversation and stiff pours at Rum House — in which this first, less boozy, part runs here — Ludo discussed weird American accents, North Carolina 'cue and a 48-hour endurance challenge fit for David Blaine.
Are you nervous about being on national television?
I'm not very nervous because that's me. It's not like they tried to make me look like somebody else. If people don't like me, then, whatever. It's me! It's our real life. Nothing is scripted.
It's not always you on TV?
Sometimes you do a show like Top Chef Masters and the only thing they show is screaming. They don't show my philosophy. When I film that show I asked the producers, "Are you going to kill me?" And sometimes they do.
On Ludo Bites, are you going to be a Gordon Ramsay or Jacques Pépin character?
Look, Gordon Ramsay. I really respect him. People forget that he is a three-star Michelin chef. But on TV he really, really, really screams. It's part of the show. And Jacques Pépin. He's a really nice French guy. So we will see. Yes, I scream. But I express myself. I don't scream for nothing.
What's challenging about doing a pop-up in an American city like Santa Fe? A city you have never been to before?
I don't have any of my staff — it's just me. So I need to work with people I don't know. They don't know me. They don't know my technique. My style. They don't understand me when I speak English. And I don't understand them. Matt, you go to Alabama and don't tell me you understand them. The accent is just, wow!
What was your favorite city to visit?
When I went to North Carolina, in Raleigh, I spent time with an amazing pitmaster Keith Allen. In 10 hours he showed me how to do the pork barbecue, A-to-Z. It was pretty amazing. And from that I didn't plan on doing barbecue for the dinner. I couldn't! He had been doing that for 40 years. But what I could do is take my formal French background and twist it a little bit.
What was the twist?
In Raleigh they use the whole hog, chop it and mix it with the sauce. So what I did was take a lot of different parts of the pig — the ear, the head. I did a pig blood pudding. I did a fried pig's ear. In North Carolina they cook so much pork, but nobody uses it. So this was pretty foreign. They liked it though.
Did you grow up with cooking shows?
They didn't have them. America is more advanced. But now they have Top Chef and Top Chef Masters. All these shows. You have no idea how many phone calls I get asking me to be a judge. I say no.
When you moved here, what surprised you the most about the cuisine?
I had never tried Mexican food. I will remember my entire life the first time I tried a jalapeño. I sliced it and touched my eye. Ouch. It was amazing to me to try the Asian food too.
What would have happened if you stayed in France?
I would have been a sous-chef somewhere, working for a known chef. But that's it.
You're the king of the pop-up. Name a concept that needs to be done...
As a chef I like to cook any time of the day. Currently I only doing dinner, but I would love to do a breakfast pop-up. Elevate breakfast to a fancy level. Because American people love breakfast — it's a very important meal of the day for them. I would also like to do a pop-up that operates 48 hours nonstop.
That sounds like performance art. Or something David Blaine would do...
I would cook the entire time and bring different chefs to cook different foods and different times of the day. I eat at any time of the day — so I would want to serve people at four in the morning or two in the afternoon. Why should I have to stick with breakfast, lunch and dinner?
Do you go to other pop-ups?
It's always interesting to see what other people are doing. But you know what the problem is? I'm going to be honest with you. I don't know why people call me a pop-up chef. I see it as restaurant tour. The term pop-up is used for chefs who set up for one night. That's called a guest chef. With my wife, we pay for our food, we pay for our rent, we pay for everything. It's a business. Think about a touring band. Think about the Rolling Stones.
Next week: The boozier Part 2 of this interview.