Is Locally Sourced Beer Even Possible?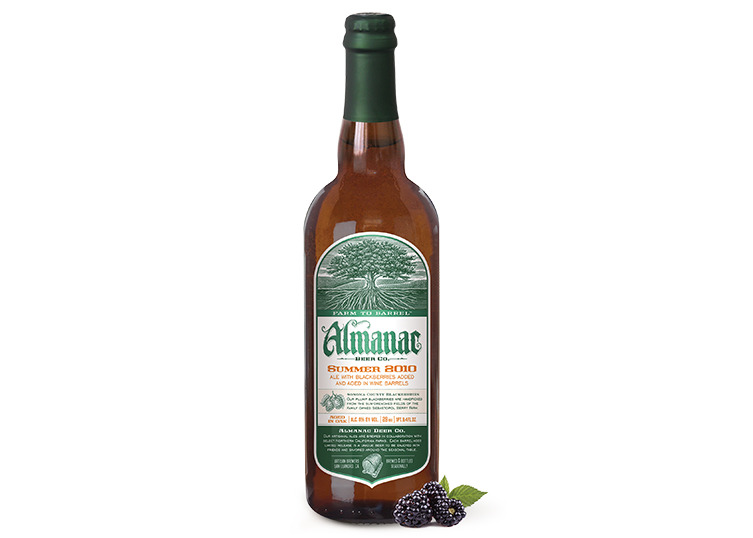 Almanac beer bottle
Where's your beer from? Wine's provenance makes the label — these grapes from that dirt — but beer's is harder to trace. Barley doesn't grow many places; it's malted in even fewer. That means most beers, whether brewed in Boise or Boston, get their ingredients from the same spot. But local beer is still possible.
Jesse Friedman and Damian Fagan founded Almanac Beer Co. to make beer for San Francisco's foodie set. A tall order in America's locavore capital. So Almanac went big with a wine-dry golden ale brewed with hyper-seasonal Sonoma County blackberries from Sebastopol Berry Farm and aged in local pinot and zinfandel barrels. The barley? Malted elsewhere. But that's not the point. Their first beer, Summer 2010, captures a season's story in a bottle. It tastes like a time and place, and is available only here (San Franciscans love exclusivity almost as much as localism).
For now, Almanac is a gypsy brewery, making their beer in other brewers' tanks. The blackberry ale was made at Drake's, and their next, a pluot saison, will be brewed at Hermitage Brewing, sometime during the late-summer stone fruit season. Like a good locavore chef, Almanac is tied to the plants — the beer waits for the fruit. Until then, find Summer 2010 in Bay Area beer shops (or ask a friend who lives in the Bay Area to score some for you). Food Republic talked to Friedman about all this and more.
Was a fruit-flavored, barrel-aged, bottle-conditioned beer a little risky for your first release?

That's exactly what runs through my mind at two A.M. when I can't sleep. We draw on a Belgian brewing tradition—we'll never make a Czech pils—but we know we can't compete with other breweries. So we have to go big or go home. We wanted to start with something non-traditional, but not off the wall. Something grown local and hyper-seasonal. We wanted to make a beer that when you tell someone about it, their eyes roll back in their head, and they think, I have to try that.
Describe how you made it.

The beer fermented for three weeks, then we drove to the farm, got the berries, and put them in the barrels by hand. The brewers at Drake's thought we were out of our minds. (The hardest part, though, was hand-numbering the bottles.)
We used 260 lbs of blackberries. 200 lbs of Cherokee, and 60 of ollalie, marion, and boysenberry. The aroma is sweet, it has a lot of red-wine character, oak-y, and it's bone dry. We wanted that; we didn't want it to be too blackberry-y. We used Magnum and Citra hops, and the Duvel yeast. People expect it's going to be sweet, heavy, rich, but for us, dry is more food-friendly. It goes great with a fatty cheese, something like [Cowgirl Creamery's] Mt. Tam. Or a stone fruit pairing. Or with roast pork or game; duck or squab.
How did you and Damian meet, and where'd the idea for Almanac come from?

I met Damian through my homebrew club. One meeting, I pulled a bottle from the cooler and said, what brewery is this from? It had this great, Moby Dick-themed label. Damian said, oh, that's my homebrew. We hit it off. We're both entrepreneurial. We talked about opening a homebrew shop, a restaurant, a brewpub. We knew we wanted a food and beer component, and we wanted to be involved in the local community. So we had the idea, we should brew beer with local food. It came to us fully formed, one of those ideas you're flabbergasted no one else has thought of. This is obviously the beer San Francisco needs.
Tell me about the label.

Damian is a graphic designer, and he made the label. He was inspired by turn-of-the-century whisky labels. I saw our bottle up on the shelf at Contigo with a bunch of sherries, and it looked perfect. Beer's place at the table has to be elevated, and the bottle has to reflect that. We used a wine-label printer and printed on what's called Chardonnay paper. The tree image is from a hand-made woodprint. The trouble was rectifying our artistic vision with the TTB telling us the appropriate font size to print "ABV" in.
Beer takes a while to make, obviously, so it won't always be ready during the season it's brewed in. Is that disconnect a problem?

We'll brew quarterly, and have a barrel-aged beer once a year. There is a seasonal disconnect, sure. In this case, the beer came out almost exactly a full year after we brewed it, so we're once again at the height of blackberry season. But with the next beer, stone fruit season will be just wrapping up when it comes out. But the beers are all bottle-conditioned; they're designed for aging. The same with jams and preserves. It's the nature of the process. We're not going to change the product to get a marketing angle.