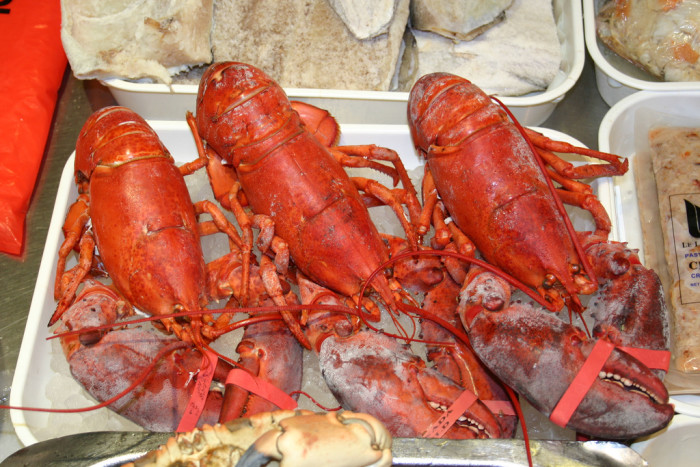 It's one of the food world's great ironies: As the price of most basic ingredients is way up, one of the most exclusive ingredients is becoming cheaper and cheaper. The lobster dinner, which often conjures up images of restaurants with crisp white linen tablecloths and posh waiters serving expensive wines by candlelight, is now something that can be had at a fast food restaurant.
Maine lobstermen brought in more lobsters than ever last year, which has led to lower prices, effectively democratizing the most elite of fine foods. Of course, lobster shacks have long been a Northeast staple, but the dense meat, so often dipped and drenched in butter, is popping up on menus in middle America far from the lobster's native waters.
According to recently released reports, over 93 million pounds of lobster were hauled into Maine's seaports in 2010, besting the previous record high of 81 million in 2009. These numbers shocked those in the fishing industry because the average catch from 1950 to the mid 1980s was roughly 20 million pounds per year, meaning that over the last 25 years, the catch increased nearly fivefold.
Marine biologists say that while common sense would attribute some of the jump to decreasing populations of predatory fish, rising surface water temperatures are having a greater impact.
"The increase in surface water temperature is beneficial to lobstermen because there should be more lobsters surviving to be caught," says Bob Bayer, executive director of the Lobster Institute at the University of Maine. "Their vulnerable period sitting on the surface is shorter, so there's less chance that they will be killed by other fish."
Warmer water temperatures, even if only a few degrees higher, greatly determine the maturation of lobsters, since the crustaceans shed their shells (known as molting) in warmer weather to grow larger.
"Last year in particular was such a warm year that everything was a month to a month and a half earlier than schedule," says Wilson, the lead lobster biologist at the Maine Department of Marine Resources. "In some cases that may have allowed lobsters to molt twice in a year."
While the total catch may be record-breaking, the price hasn't dipped to an all-time low to match yet. The price per pound received by the lobstermen for the 2010 catch came in at $3.31, which was still more than they received the previous year: $2.93.
Still, lobster seems to be appearing on menus beyond the usual white-tablecloth establishments. Chain restaurants like Ruby Tuesday have added lobster to the menu, and lobster rolls are among the new selections at Panera locations, as well as at Cosi. New England McDonald's continues to offer its McLobster sandwiches as well, though the company shot down a Twitter rumor back in March that the McLobster sandwich would be rolled out nationwide.
The availability of lobster in less exclusive restaurants is a direct result of lower costs and a high catch, and biologists don't think that it will be the last.
Bayer says that because of state regulations that force lobstermen to toss back any lobster below a certain weight, it helps sustain a substantial population of the crustacean.
"We throw them back primarily so that they have a chance to grow to a size that is large enough to breed," Bayer explains. "We're protecting a huge breeding population. It's going to be difficult to overfish this population."
---
Are you seeing lobsters pop up in strange, non-exclusive places far from home? Report your sightings in the comments.