Flavor Injector Picks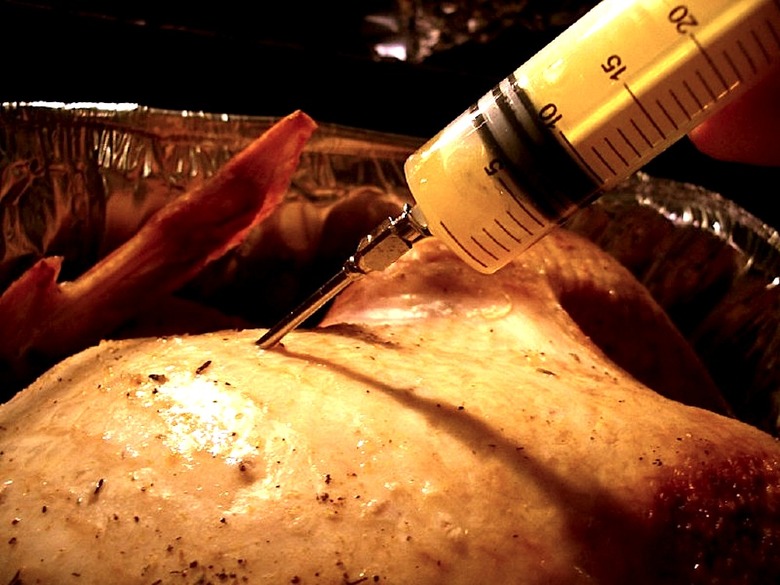 flavor injector
We may receive a commission on purchases made from links.
It may look cruel, but immunizing your meat against blandness is actually the kindest thing you could do. This more direct approach to marinating results in tender, flavorful steaks and poultry that tastes like it's been basted from the inside out. Not all flavor injectors are the same, however, so we vaccinated anything that would stand still long enough (is this metaphor getting weird yet?) with our favorite marinades to see what stuck.
Best value:
Eastmann Outdoors Monster Marinade Injector, Eastmann Outdoors; $5.99
Praised for its lightweight design, powerful suction and easy-to-clean interior, Eastmann Outdoors Monster Marinade Injector more than lives up to its intimidating moniker. Whether you're injecting marinade into a monster or marinade that came from a monster, the clear plastic barrel ensures that you know exactly how much of it you've got left. Best of all, the whole mechanism screws apart for easy, thorough cleaning and storage.
Pro tools:
Bayou Classic Stainless Steel Seasoning Injector, Amazon.com; $19.95
This heavy-duty device may look like it traveled here from simpler (and more painful) times, but it just may be the last flavor injector you ever buy. It comes with two razor-sharp needles – the thicker one accomodates marinades with minced particles like garlic and ginger and the thinner one delivers juice, wine and soy sauce with laser precision. Sturdy and dishwasher-safe, this is a gadget you'll want if you cook a lot of meat, or if you're marinating a bear.
All-around best pick:
Ronco Solid Food and Liquid Injector Set, Ronco.com; $14.95
Picture any small object (preferably edible) that you can stuff with precision into another, larger object (should also be food). Ronco's model allows you to inject fruit, nuts, chopped veggies, garlic cloves and more into the chicken you're cooking for a penetrating flavor experience. The set also comes with a syringe for liquids should regular marinades come into play. Try injecting brown sugar and pineapple chunks into a roast ham or brandy-soaked dried cherries into a leg of lamb and you may wonder why animals don't come stuffed with sweet and/or boozy fruit in the first place.
---
More gadget picks on Food Republic: