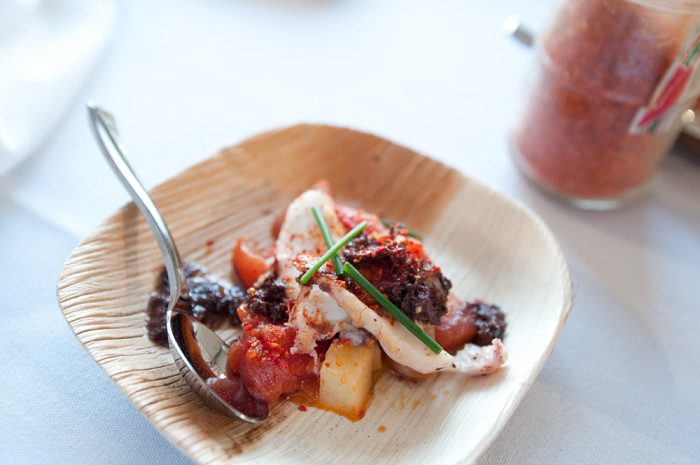 It's pretty common at events like the Dan's Taste of Two Forks — held Saturday evening at Sayre Park in Bridgehampton, Long Island — that the farm-to-table ethic is on full display. I enjoyed beautifully composed dishes like local sweet corn succotash with Montauk lobster and Long Island duck mousse with cantaloupe served at two of the 30-plus tables under a giant tent. The fundraiser, a Hamptons summer tradition, is thrown by Dan's Hamptons and was hosted by our man, FR co-founder Marcus Samuelsson. But it's really something when you actually get to smell the farm during a tasting event, which is charming and sort of nasty at the same time. City boy, I've become.
"You come out East and you see lobster shacks and corn and strawberries being sold and you are like, yes!" said Samuelsson. "You forget that it's this close." Close, indeed. We hopped on the Jitney (never have written that before) and made it to the park in time for the first bottle of Channing Daughters Vino Bianco to be uncorked. Yes, there was plenty of local wine too. Some highlights:
• Got to speak with Keith Luce, a James Beard Award winner and former sous chef at the White House during the Clinton administration. He's recently moved back to his family's farm on Long Island, where he reclaimed 10 acres to raise chickens and Mangalitsa hogs and start a vineyard that will produce Chenin Blanc and Cabernet Sauvignon. He's currently the chef at Luce & Hawkins at the historical Jedediah Hawkins Inn in Jamesport. This is a story I will be following.
• Luce, one of the bigger names in the tent, also went big while serving one of my favorite dishes of the night — a crispy "duck wing" with a Thai garlic-chili sauce. The wings (which appeared more like skinny legs with the fragrant meat falling off in a bite) were finished in a convection oven after completing a long journey — two days cured and 12 hours of slow cooking. So good.
• The crowd was something too. Well, the pants were something. A red haired gentleman wore matching red pants with embroidered rhinos. A man we think we spotted at a RatDog show recently (a lie — though in the cards) wore slacks that were inspired by tie-dye, but formal enough for the occasion of a fancy walk-around tasting.
• "Everything is wonnnnnnderful," said an older woman about the night's culinary offerings in the voice you can imagine if you've ever watched Grey Gardens. Well, not really, but some other highlights included a chilled melon soup with mysterious heat from Cittanuova. A sweet bite of corn and local lobster from Jamesport Manor Inn. Blue Parrot did a flavorful yellow tomato and tuna gazpacho with a refreshing kick of watermelon.
• Spotted two young guys eating tamales. Our photographer Natasha sensed they were not from around those parts and rapidly approached. She lives in North Brooklyn and we suspect she needed a brief reprieve from the Hamptons scene. Her radar is sharp. Or maybe it was the giant eagle tattoo peeking out from under our new friend's shirt. The men were, indeed, from BK. Nice guys too.
• Simon and Alex are my favorite reality TV couple. They are opportunist, for sure. I also don't watch a lot of reality TV these days. None actually. They are the only couple I follow. But I've witnessed them being good parents and nice Brooklyn neighbors. They also behaved themselves. They also didn't bring along their unfortunate friends.
• There was plenty of wine, some of which we'd rather not remember. This is always the case at events, but there were some spectacular failures on the concept of chilling. Room-temp pinot gris is bad news. The wines from Channing Daughters made up for it. Their Vino Bianco super blend held its own with the wide variety of dishes being served—from beef sliders and Spanish paella to oysters. Check out the breakdown. Their Merlot Rosé isn't have bad either.
• A song by the clubby super group Duck Sauce was played three times. And, unironically, given the region's proud tradition.
• Rosanna Scotto was interviewed by a local Long Island newscaster. The word hero was possibly tossed around.
• This movie was playing on the bus back to Manhattan. An SJP flick on the The Jittney. Mind blown.