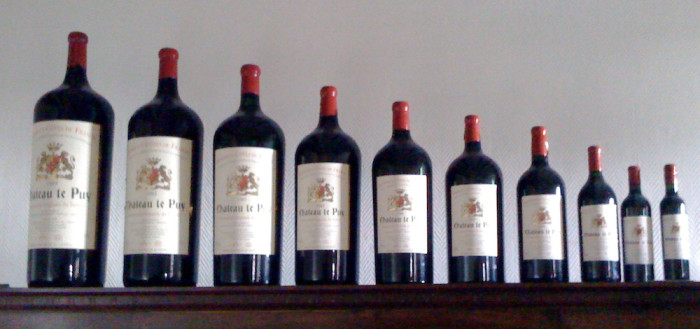 Last night, at Le Comptoir, a bistro in Williamsburg, I was treated to a jeroboam of Château d'Esclans "Whispering Angel" rosé from the Côtes de Provence. Naturally, I was sharing it with a rather large group of people: The jeroboam holds 4.5 liters, or six bottles, of wine.
Most of us buy wine in 750-ml bottles. Sometimes, when we're celebrating, we spring for a magnum. But rarely do we go larger than that. Unless we're doing a box or keg. But wine comes in a number of formats larger than a regular bottle, all for some unknown reason named for biblical figures. The Methuselah, named for the oldest man in the Bible, holds six liters; the Salmanazar, named for the King of Assyria, holds nine liters; the Balthazar, referring to one of the three wise men, holds 12 liters; the jumbo Nebuchadnezzer, a King of Babylon, holds 15 liters. Other bottles exist: the Solomon (20 liters) and the Melchizedek (30 liters), but these are rare.
Who buys these monsters, you might be wondering? Honestly, it's usually restaurants. We've all seen the outsized empties left on display to remind the owners of that one night of folly they indulged in. You might have even been under the impression that these massive bottles are props. Why would anyone choose to buy wine that comes in such a cumbersome vessel, anyway? Large-format bottles are generally not cheaper than smaller bottles and they are not terribly practical to transport or pour.
Wine geeks contend that big bottles are better for aging. With less oxygen in the bottle compared to the volume of wine contained, the wine oxidizes at a slower pace, which many believe results in better maturation. Certainly the wines reach their peak at a later date. But I think the best reason to splurge on a jeroboam or other jumbo bottle is just how freaking cool they look. Last night, we were drinking rosé, a wine that decidedly doesn't need to mature. And you might be able to argue that the lower amounts of oxygen in the bottle kept the juice fresher than in a smaller bottle. But, really, the main appeal was the ostentatious, rap-mogul excess of it all. If only rap stars drank Provençal rosé.