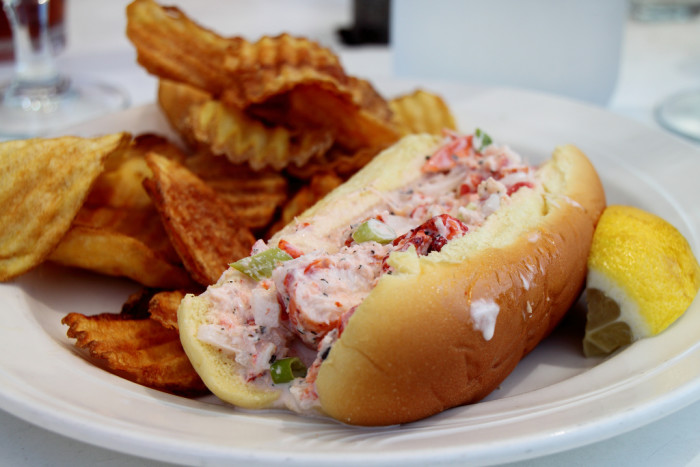 Foodie season in the Hamptons, a slow crescendo, is set to reach full volume in the next two weeks here in the summer playground for the rich.
It started with the release a few weeks ago of Sylvia Lehrer's book, Savoring the Hamptons: Discovering the Food and Wine of Long Island's East End (Running Press, 2011). In it, Ms. Lehrer, a longtime food writer for the local Dan's Papers, takes readers on a four-season tour through a land where fishermen bring in a catch of swordfish and steamers and farmers harvest everything from potatoes to wine grapes.
The book has a forward by Alan Alda, a onetime culinary student of Ms. Lehrer's. In an interview I did with her and posted in audio and podcast form on newbooksinfood.com, she said she loves the local food people a bit more than the folk who spend one or two months a year inhabiting their oceanfront palaces and zooming around town in Ferraris they barely know how to drive.
"The local farmers, the families," she said during the interview at her home in Watermill. "All of these people have committed to generations of working the farms."
Taste some of that commitment July 16 at the first annual "Dan's Taste of Two Forks", which features dozens of local chefs, vintners and food folk (what else do you call Dylan Lauren of Dylan's Candy Bar, who is among the featured talent, along with Sarabeth Levine of Sarabeth's) taking to a field in Bridgehampton and doling out delicacies. TV newswoman Rosanna Scotto is master of ceremonies and the host of the event is Food Republic co-founder, Chef Marcus Samuelsson.
Then next weekend on July 23 is the annual James Beard "Chefs and Champagne" event at Wölffer Estate Vineyard in Sagaponack. Chef Emeril Lagasse is the guest of honor. He will oversee the proceedings, which always feature men in white pants and women in sundresses feasting under a big white tent. This year the talent includes Daniel Boulud and Jim Leiken serving Grilled Lamb Ribs with Sherry–Honey Gastrique and Minted Yogurt Sauce; Marc Forgione dishing out Chile Lobster with Local Corn and Lemon Verbena; and Shea Gallante making Yellow Basinga Gazpacho with Maine Lobster, Watermelon, and Basil – and also Chef Samuelsson, who, I hope, will enjoy his week in the Hamptons!
As for me, I may find myself that week at South Edison, the year-old restaurant in Montauk where Chef Todd Mitgang's smoked bluefish salad with Balsam Farms organic red lettuce has me dreaming of dinner every time I hit the beach with post body-surfing munchies.
I don't have a Ferrari, though. Yet.