5 Southern French Wines To Drink Now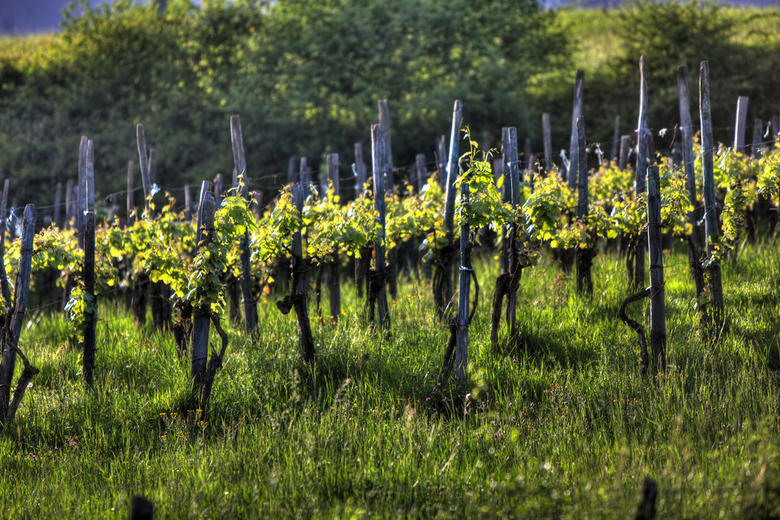 Irouléguy vineyard
The wines of south and southwest France are some of the most under-appreciated in Europe. Why? First, the region's more famous neighbors in Bordeaux tend to get all the love and attention. Second, the wines are often produced from grapes that consumers are unfamiliar with — an unfortunate death sentence in this market.
But this Bastille Day, take a chance with the wines of this part of the country. Not only are you in for a delicious surprise, but you'll also find that, more often than not, they're perfect partners for the kind of grilled foods so many of us enjoy on summertime weekends. Below, then, are five standouts we're confident you'll love.
Domaine du Cros 2009, Marcillac

Fans of Beaujolais will recognize a similar color with this purple-hued gem. But there's a bit more grip than you'll usually find there: The Fer Servadou grape variety of this red lends the wine a leafy, almost Cabernet Franc-like note, along with flowers, iodine, berries, and a hint of minerality, especially on the finish.
Domaine du Moulin "Cuvée Réserve" 2007, Gaillac

Southwest of Marcillac lies Gaillac, the home of this blend of half Duras and half Syrah. Its personality runs the gamut from raspberries to licorice to minerals, and its complexity seems miraculous given its $11 price tag in most markets.
Domaine Brana 2008, Irouléguy

From the southwestern portion of the region, not a stone's throw from Spain, comes this expressive blend of Cabernet Franc, Tannat, and Cabernet Sauvignon. Cherries and red plums are balanced out by leaves of green cigar tobacco. It's both familiar and exotic at the same time, and each sip gets better and better.
Gerard Bertrand Corbières 2009

This absolutely beautiful blend of Grenache, Syrah, and Mourvedre hits all the key notes for fans of Southern French reds: Expressive crushed purple berries are joined by peppercorns, a hint of gaminess, and acid that will slice through even the most difficult-to-pair grilled meats. Bertrand produces a wide range of wine, and all of them are performing wonderfully right now.
M.
Chapoutier Domaine de Bila-Haut "L'esquerda" 2008, Cotes du Roussillon Villages Lesquerde

Aromas of venison and peppercorn jump from the glass as soon as you start to swirl it, and lead to flavors of tart red and black raspberries, a bit of smoke and flowers, and a lingering finish that reminds me of mushrooms and game. If there's a better wine for a Fred Flintstone-sized slab of meat on the grill this weekend, I haven't found it.
---
More about wine on Food Republic: