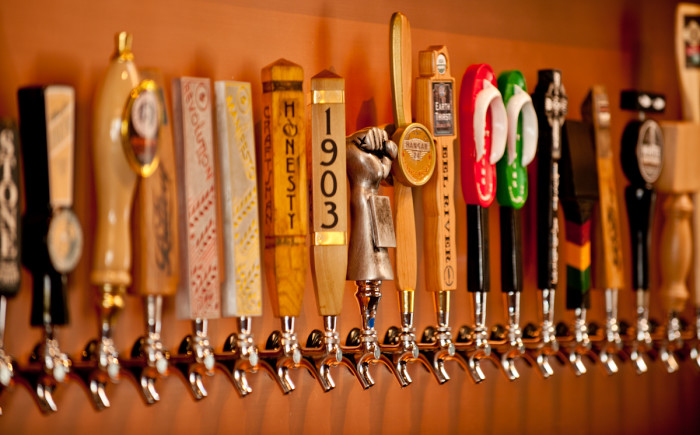 Once considered a sleepy nabe of Los Angeles, Culver City has become a dining destination of its own in the past few years as innovative chefs have begun setting up shop. Sang Yoon located his Father's Office 2 and his newest restaurant Lukshon here and and Roy Choi's A-Frame is nearby. The latest edition to the dining scene is City Tavern, a classic American beer joint with an emphasis on an eclectic small plates menu, an extensive selection of California craft beers and a unique specialty feature: three Table Tap Booths — booths where you yourself can pull your own pint of draft beer!
City Tavern is the first place in California to offer these booths, which are equipped with a computerized draft beer system where patrons can pour their own beer from three draft handles at each table. These self-serve taps allow imbibers to pour their own beer by the ounce. So you if you want to try the weird ale you've never heard of, you can pour yourself a taste and not have to pay for a full pint. For safety and sobriety sake, the system shuts down after 32 ounces per person at the table has been poured; it can only be turned back on once a server has verified the sobriety of the drinkers.
You won't want to ignore the servers altogether though. While there are only three choices per booth, the main bar offers 25 California craft brews on tap, served in sizes ranging from samplers to one liter growlers. The pours also include a collection of local California wines and a handcrafted cocktail menu.
Chef Jessica Christensen offers up a gastropub assortment of clever comfort dishes like Jidori Chicken Panini with Manchego, quince and almond pesto; fresh Carlsbad Bay Oysters in a Mignonette with fresh horseradish; and an olive-oil and stout–poached New York Strip Steak.
Soon after the opening of City Tavern, co-owners Ken Kaufman and Brian McKeaney (Dave Northrup is also a partner) talked with Food Republic about the tavern's opening, as well as the concept behind the table taps.
How are people taking to the table taps?
Kaufman: The public is learning how to pour tap beer…and sometimes it's not that pretty. But they are loving it.
Where did your idea for the table taps originate?
Kaufman: Brian and I were in Chicago and saw the table taps at an upscale bar downtown. It wasn't hard to sell us on the idea for the American Tavern concept we were developing. We saw it as an innovative way to enhance the dining/beer experience.
What was the greatest hurdle in bringing the concept to reality?
Kaufman: We wanted the taps to be in the wall as opposed to what we had experienced in Chicago — coming up through the table — because we wanted the table itself to leave plenty of room for dining. To do so involved some technical and design issues that presented a bit of a challenge. The result is a full dining table with a copper and walnut "back bar" for each booth.
What beers are currently on the taps? How are they selected?
We have 25 of the best artisan craft beers from big and small breweries across the state of California like the Bruery, Lost Abby and Eagle Rock to Cismontane, Lagunitas and Pizza Port. Each was selected first based on our desire to offer craft draft beers produced locally here in California, and then were selected to offer a wide range of light to medium to dark. The beers will change seasonally as well.
Why was Jessica Christensen your choice as chef?
Kaufman: Jessica is an extraordinary talent who comes from a fine dining background. It was our goal to present a fine dining style of food served in a casual way. We believe that to complement our selection of 25 quality local California microbrews the food should be of an equal standard. All the food, wine and beer choices have been made to emphasize "local" and "quality."