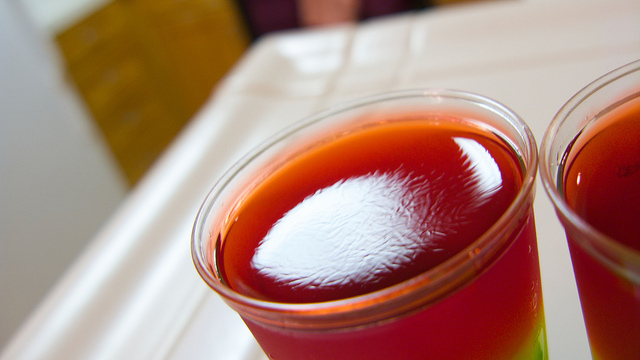 What did we eat this week? Burgers, dogs, glorified grilled cheeses. Can you blame us for going so conventional? Of course not: America celebrated its 235th birthday on Monday.
A tour through the blogosphere indicates that not everybody's sticking so tight to tried and true American fare on their summer holiday. Like, for example, I ate watermelon on Monday. Why? It was the Fourth of July and I had a barbecue. And as with most barbecues, we had booze. But somewhere a girl named Erica went and one-upped me, killing two birds with one stone with her watermelon jello shots, which are both fascinating and frightening.
Elsewhere on the barbecue circuit, Austin Urban Gardens has raised the stakes on corn (or maybe shrunk the stakes??) by growing mini corn that tops out at six inches. Six-inch corn: Great for the kids, and something that should save you the time of breaking ears in half to keep everyone happy. Who says everything's bigger in Texas?
If you want to do something with a hot dog that doesn't include stuffing them into baguette sub rolls and dousing them with unique condiments, you can always top each frank with a pile of lobster meat, as Harry's Rooftop Bar in Manhattan has done. This one reminds me a lot of an old drunk food I used to eat, The Egg Dog, which my friend Keith would make by throwing a fried egg and cheese onto a kosher dog.
Seeing as though July is National Ice Cream Month, it's only fitting that a few of the most bizarre food concoctions we see this week come in the form of frozen dairy. Experimenting with the dairy source is nothing too unusual, though we'd imagine this goat cheese ice cream is a pretty unique experience. What really stands out is this peanut butter popsicle, which no one could have seen coming.
Wonder how it'd go if you smothered that thing in jelly? Option B: Injection, like this dude has done with his chicken McNuggets.