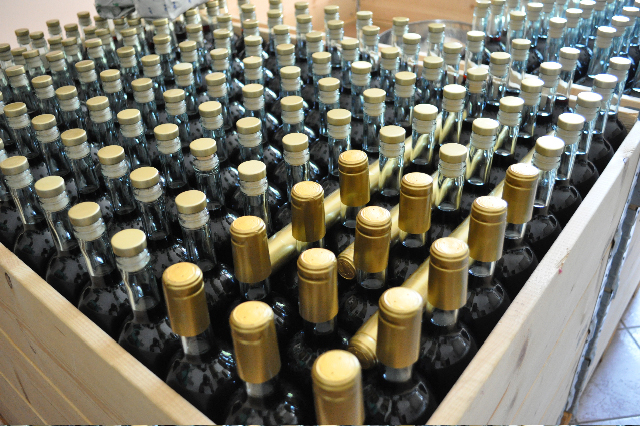 Americans' taste for the bitter has only increased in recent years. And this is good news for people like Mauro Vergano. Out of his tiny office-slash-production facility on a narrow street in the town of Asti, at the heart the Italian winemaking region of Piedmont, he makes chinato.
The region has been a bastion of vermouth and other fortified wines for centuries. Cappellano, a local wine producer, claims to have invented Barolo Chinato in the late 19th century. (So does Cocchi, another chinato maker based nearby.) When Barolo Chinato came into fashion, Piedmont was already known as the home of Cinzano and Martini & Rossi. But where vermouth starts with low-quality wine boosted by adding herbs and spices, Barolo Chinato starts with Barolo, the king of Italian wines.
Vergano's chinato is made with the grignolino grapes, a softer varietal than Barolo's powerful Nebbiolo grape. His Vergano Americano is an ancient recipe passed down from his uncle and a rare enough find in the U.S.A. A chemist by trade, he makes it by infusing organic wine with quinine, wormwood, orange rind, and a varying array of herbs and spices that change for each exceptionally small batch. (So small, in fact, that his "tanks" are really closer to large pots). The result is a bittersweet, cherry-red liquid redolent of cloves and orange peel. It's weighty in the mouth; Vergano likes to top it with soda and an orange twist as an aperitivo.
Lately, Vergano has been experimenting with a new chinato derived from the region's white moscato grapes. His Chinato Moscato Luli is delightful on its own or with a splash of soda (although he recommends a lemon twist rather than orange here). It's full of citrusy notes and a hint of anise from the wormwood. A bright and surprisingly complex summer sipper that bartenders will surely want to use as a substitute for, say, Lillet — if they can get their hands on it, that is. The first shipment has gone out to California, so East Coast folk may have wait a little longer to try it.
In the meantime, you can find Vergano Americano in New York at places like Astor Wines and Chambers Street Wines, and served precisely as Vergano himself would do it at Locanda Vini e Olli in Brooklyn.
---
More about wine from Food Republic: