A Crisis Of Beer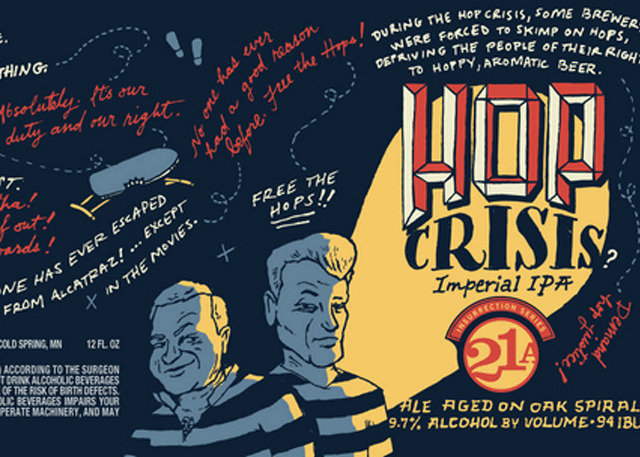 Hop Crisis
We may receive a commission on purchases made from links.
With summertime in full sweaty swing, my work productivity has sunk to the dungeon. On the other hand, my time spent sunning myself at the beach and sipping canned beer is sky high.
To keep myself, uh, "hydrated" on these heat-wave afternoons, I'm quaffing the kind of low-alcohol, high-flavor beers that slide into the session category. On constant cooler rotation are the prickly Avery Joe's Premium American Pilsner; the creamy, subtly sweet Anderson Valley Summer Solstice Cerveza Crema; and the lightly tropical Narragansett Summer Ale. These aluminum-shrouded beers are grand for guzzling by the six- or, let me be honest here, 12-pack. That's not necessarily a bad thing. I don't always need to ride a rocket ship to inebriation; even a turtle will eventually deposit me atop the trashed heap. Yet sometimes, I crave more kick from a beer plucked from my icy Igloo.
For that, I look to the lads from San Francisco's 21st Amendment. Since 2000, founders Shaun O'Sullivan and Nico Freccia have carved out a nice canned-beer niche with brews such as the aromatic Brew Free or Die! IPA and the twangy, fruity Hell or High Watermelon wheat beer. Hell is nice on a hot day. However, I'm most smitten by the brewery's latest release, Hop Crisis. The seeds of this amped-up imperial IPA were planted several years ago when a hop shortage swept the nation. Brewers snapped up any available hops — the flowering cones that add bitterness to beer — and used them as sparingly as Pamela Anderson does sunscreen.
Not Freccia and O'Sullivan. They decided to brew a burly, bitter IPA and age it in oak too. It was a hit. And you likely didn't get a chance to taste it. Lucky for you, 21st Amendment has resurrected Crisis and plopped it in a can. Crack it, and you'll unleash a sticky bouquet of sugared grapefruit, pine and, ever so lightly, oak. Crisis slinks down your throat rich and resinous, carrying flavors of citrus, caramel and vanilla, before closing dry and piney-bitter. It's so smooth, you might miss that the beer boasts 9.7 percent ABV.
Finish the whole four-pack by your lonesome, and you might be staring down a crisis of a different sort.
---
Want more beer (stories)? Check out these articles: