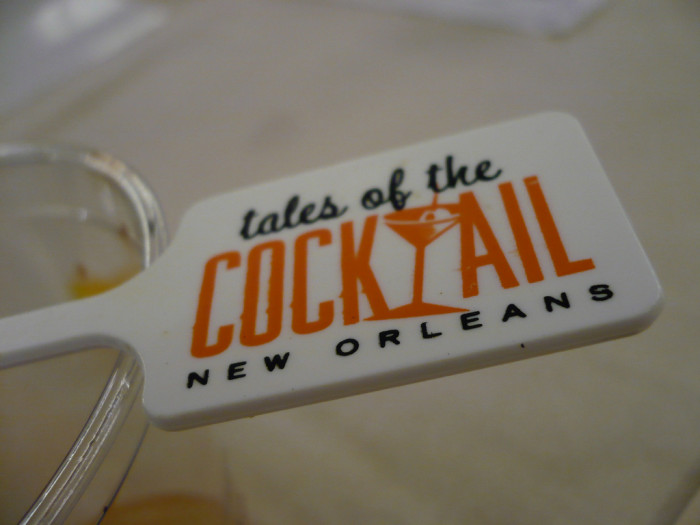 Love cocktails so much that you're dying to attend a five-day convention discussing everything that relates to them in the dead of New Orleans' face-meltingly muggy summer? Then you're in luck. Tales of the Cocktail returns for its ninth year this July 20-24.
The annual conference-slash-party-slash-awards for the spirits industry is also a drinkfest that's open to the public. Sure, it's crawling with bartenders, alcohol brand ambassadors, cocktail consultants, distillers and booze bloggers, but don't let that fool you. Above all, it's a good old-fashioned food and drink bonanza, with extra focus on the drink. Last year, 18,750 people attended Tales of the Cocktail and nearly 35% of them were mere cocktail enthusiasts as opposed to industry folk. If you're connoisseur hoping to make your first trip down this year — or if you've been before and got a little, shall we say, overwhelmed — here are some brief pointers on how to make the best of the boozy situation that is Tales.
Pace yourself. Seems like a no-brainer, right? But Tales newbies have a tendency to overdo it on their first day. You're going to be getting free drinks. Everywhere. In the lobby of the Hotel Monteleone, the event's headquarters; in the seminars you attend; at lunches and dinners and parties in the evenings, at sponsored cocktail hours around the city. This being New Orleans, someone may hand you a drink on the street and you won't even know why or from whence it came. So, again, pace yourself.
Bring an extra bag. Liquor brands show up in droves at Tales of the Cocktail. And they bring an astonishing amount of freebies with them. You're going to be spending five days gathering sample-size bottles of booze and every sort of branded bar tool imaginable, from shakers to muddlers to citrus zesters. Take these goodies home with you in an extra carry-on. Or better yet: bring a bag you can check just in case someone hands you a free bottle that's over 3.4 ounces.
Attend seminars, but beware the early ones. Some people attend Tales for the parties, but real cocktail geeks don't miss out on the seminars, which this year include "6 Rums You'll Probably Never Taste Again," "Barrel Aged Cocktails" and "Tequila's Rise and Redemption." The earliest start at 10:30 a.m., but if you're not a morning person, it's probably best to book yourself into later ones. It's not just that you'll be drinking a lot (see tip no. 1). It's that you'll be doing so well into the wee hours (be assured, bars stay open later in New Orleans than wherever you are from). The late nights, copious drinks, and additional loss of hydration due to persistent perspiration will surely combine to make your hangovers all the mightier and the need to sleep in all the more dire.
Hydrate! Re: the above, you'll need to drink water constantly. Luckily, along with all the boozy freebies at Tales, there are complimentary bottles of water floating around everywhere. Be sure to take one or two every time you pass a table full of them. It isn't exactly the most environmentally friendly tip, but you can always make up for these disposable transgressions when you get home by planting a tree. (One thing you won't find handed out for free everywhere is food. Keep yourself fortified with the city's fine, greasy fare so you don't end up a cheap date. Remember: a po'boy can go a long way.)
Venture out of the French Quarter. This one might also seem like a no-brainer, but it's surprising how many tourists — not just from Tales, but visitors year-round — don't venture out of the Quarter. Some of the best and coolest bars and restaurants in NOLA aren't quite within walking distance of the Tales hub. Hop in a cab or on the streetcar for a drink or a meal off-campus. Think of it as a healthy extra-curricular activity, able only to enhance your overall Tales of the Cocktail experience.
---
More Hot Fives: