Cochon Butcher Pork Belly Sandwich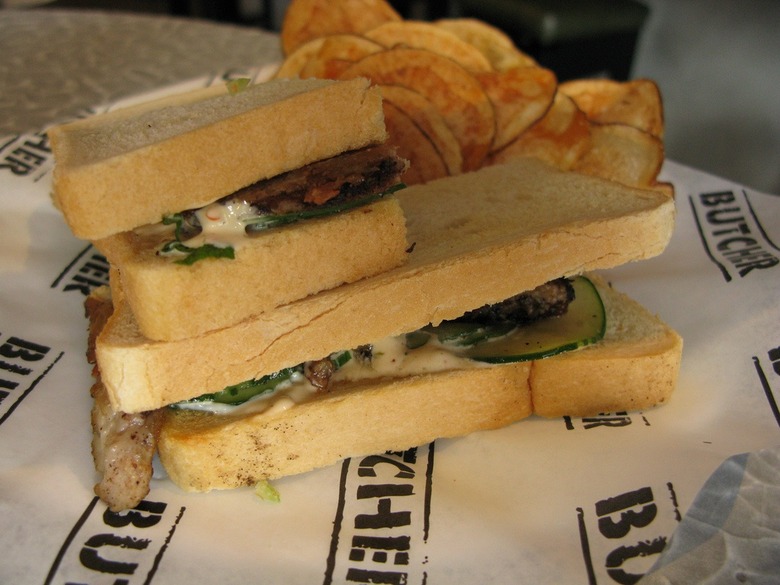 cochon butcher pork belly sandwich
New Orleans is a city with sandwich bona fides of epic proportions, like the po'boy and the muffaletta, to name a few. It takes a lot to distract us from a good fried oyster po'boy but a little place called Cochon Butcher managed to do it with its signature pork belly sandwich.
Cochon Butcher is an offshoot of contemporary Cajun hotspot Cochon. Chefs Donald Link and Stephen Stryjewski source local foods like frogs and crawfish and house-make old-style cured meats like andouillle, boudin and smoked bacon. That aesthetic and devotion to detail carries on to Cochon Butcher, which sells those cured meats and some pretty amazing sandwiches.
Among the sandwiches is a stunning muffaletta with those house-made meats and a salty, savory olive salad. A bacon melt piled with swiss cheese, collard greens and a pepper aioli. And a house roasted turkey sandwich with avocado, grilled onions and sprouts. But it's a simple pork belly sandwich on plain white bread that is our sandwich of the week. Layered thick with cucumber and mint, at first glance this sandwich seems like a tea-sandwich gone Southern. But the pork belly is perfectly crisp and succulent and the crunchy freshness of the cucumber and mint provide a perfect counterpoint to the richness of the pork.
Oh, and it comes with house-made pickles and potato chips, for a perfect Sandwich of the Week.
---
Got a favorite Cochon Butcher sandwich or a nominee for Sandwich of the Week? Let us know in the comments.