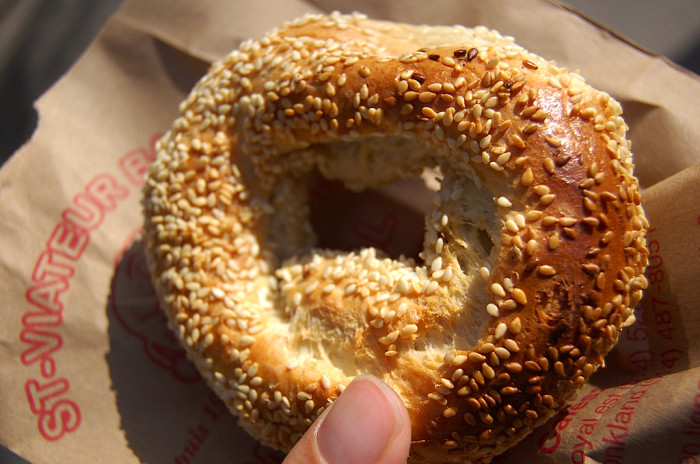 There's been a lot of smack talk about bagels lately. New York institution H&H Bagels closed, inspiring a flurry of protest and not a little criticism of the current state of the bagel in New York City. Over in Brooklyn, there are folks importing Montreal bagels directly from the Great White North to sell in their Montreal-style deli. And those folks now face competition from a neighbor, who has started making Montreal-style bagels onsite. This, of course, has led some to bemoan the invasion of Montreal bagels. I often come across comments about these bagels being too sweet, too skinny, even "Frenchified." Well, let me address this with a story about my dear Aunt Deb.
Deb, who lives in Ottawa, my nation's capital, goes to Montreal when she's in need of a wild weekend. But on a recent weekend, she came to New York instead. It had been years since she visited. And by years, I mean half a lifetime. Upon seeing the city's great, puffy bagels, she exclaimed to me, "Oh, that's right. New York does bagels, too." Then added, "They sure are big, eh?"
Dear New York, my adopted city, you are a place of many gastronomic wonders. But you don't seem to understand that Montreal bagels – Montreal deli culture, for that matter – are not newfangled things. Montreal, like New York, had an influx of Jewish immigrants from Eastern Europe beginning around the mid-18th century, and they brought with them their culinary traditions, which included the bagel. The immigrants who landed in New York made their bagels one way; those who landed in Montreal made theirs a different way. But, rest assured, bagels in Montreal, whether you like them or not, are more like those first bagels originally brought over to the New World from the Old. Unlike New York bagels, which have grown fat and cakey over time, the recipe for crusty, chewy bagels from Montreal has changed little in 250 years. The most important part being that Montreal bagels are still parboiled before being baked, which takes time. And New Yorkers have come up with all sorts of nifty innovations to skip this step and make their bigger bagels faster. Like most Montrealers, I'm not particularly patriotic. But on Canada Day, I do like to drop a bit of knowledge about my home country on my adopted country, especially in an era when New York seems especially fond of foods from Montreal. And the lesson this Canada Day is that, for Canadians, bagels are a Montreal thing. Just like, for Italians, pizza is a Neapolitan thing. New York might claim these things for itself, and do them exceptionally well in certain instances, but it didn't invent them. That, and bigger isn't always better.
More on Canada from Food Republic: