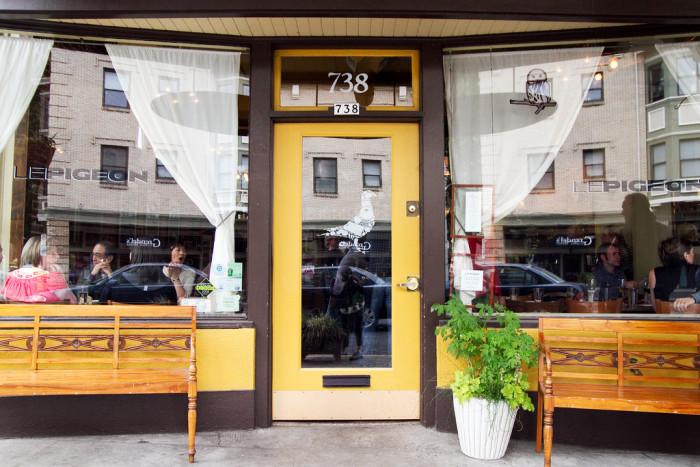 Many in New York City — where I live — compare Portland to a giant Williamsburg. Yeah, sure, in both cities there's fixed gears and a knockout coffee scene and some questionable tattoos. And non-traditional jobs, and hours. And people who get to not work and be pretty all day. I get all that. But what people are missing when they compare PDX to North BK is the eating and drinking scenes. After spending five days in and around the city, it is quite obvious that there is no comparison between the entire borough of Brooklyn (population: 2.5 million) and Portland (population: 500,000). Portland wins. Portland destroys! And granted I could only check out a very limited number of restaurants (this fills in the blanks pretty nicely), they pretty much all impressed in one way or the other.
Here's a rundown…
Pok Pok
White guy Andy Ricker is the man behind a mini dynasty of restaurants and bars that take fiery Asian street food to their most-authentic extremes. Take for example the Isan-styled laap (some call it larb) — a duck breast minced with liver and dressed with lemongrass, lime, fried shallots and chilies procured from what we're certain is Satan's CSA. The dish's brightness was only outmatched by a brow-sweating heat. We had ordered it medium. Thankfully, our round of cocktails cooled things off a bit. The list splits between classics (Aviation, Corpse Reviver) and more homespun creations like a tequila-honey potion mixed with a regional oddity called drinking vinegar. (After a couple stabs at it, I found the tart mixture to be as pleasurable as drinking vinegar).
The fire returned immediately with a lemongrass sausage I hastily double-dipped into a bowl of manly nam prik. And a line about Ricker's fish sauce chicken wings — elevated with garlic, plum sugar and a lacquer of caramelized Phu Quoc fish sauce. As I will tell my friend Zak Pelaccio — minder of the mighty Fatty Crab kingdom — the next time I see him: "Dude, you're up." These wings were the best white man Asian dish I've ever had. They made me jones for a trip back to my favorite Thai restaurants in Bangkok, Woodside and a Los Angeles strip mall. I've added Portland to that list. 3226 Southeast Division St., 503-232-1387
Le Pigeon
My birthday landed on the first day of the trip and my wife wanted to take me out. At this point I pick my own special occasion dinner locations — it's been our deal since an extremely well-intentioned brunch at a Bobby Flay big box ended in tears. Le Pigeon was the only choice. Chef-owner Gabriel Rucker recently won James Beard Foundation's Rising Star Chef of the Year, which is sort of misleading given that he is 30 and damn-well accomplished. We were seated at the 10-person chef's counter, where three very skinny men cooked there asses off for two breathtaking hours. (Rucker was absent that night, cooking at his more-casual spot Little Bird). Pigeon crudo is weird sounding. The results played slightly better — the appetizer portion of squab was cooked sous-vide for 10 minutes at 135 and dressed with chili oil, sweet onion puree and a Spanish blue cheese and avocado salsa. The rareness was an aggressive prep for poultry. (I used the term a number of times on the trip — to my wife's ribbing.)
A broccoli gnocchi with local salmon roe went over better. Birthday dinners mean you can order anything you want, which includes a middle course of foie gras and artichoke-spinach puree (more like a dip). A pickled artichoke relish added zip. Kaboom. Entrees landed slightly lighter—a medium-rare pork shoulder steak with pickled spring onions was nice, but the winner was an Alaskan salmon served with a disc of fried morel and porcini mushrooms cooked with the funkiest of pork belly. Raw asparagus and Columbia-grade olive oil finished the deal. My wife bought me a t-shirt too. Best wife. 738 E Burnside St., 503-546-8796
Ping
Another Andy Ricker joint, this one located in a former Chinese restaurant called Hung Far Low. Ha. We stopped by for happy hour, which offers a more limited and budget-friendly menu. Spicy octopus skewers, three to a spear, are marinated in lime, garlic, fish sauce and cilantro while a bowl of stock ramen (the Styrofoam-cup style) is elevated with fresh shrimp, a yolky egg and balls of "bouncy pork"—and is only $5. The teriyaki-glazed Kobayashi dog was outstanding and topped with a healthy shake of bonita flakes and pickled cucumbers. And besides the drinking vinegar weirdness and a lame pork chop bun, this was yet again a big win from Ricker. 102 NW 4th Ave., 503-229-7464
Castagna
$65 got me this: An amuse of puff pastry with salmon roe and herb aioli. Several bites, presented on elegant wood and stone blocks, including chicken liver and black sesame on a wheat berry cracker, beet fruit leather and a rich chip of duck confit with sorrel. There was a rye popover slathered with either whipped lardo or yellow butter (or both) and topped with bits of dehydrated brown butter.
Then the meal began.
There were tart green strawberries with smoked cod — frozen and shredded — and the essence of young pine. A squid was done with charcoal vegetable purée. Tender, gamey lamb collar with wheat berries and a buttermilk gelée ended the savory section. Rhubarb was sided with an oat cake.
Fin.
The cooking at Castagna does not feel like Portland at all — more Spain or New York — so it's not surprising that chef Matt Lightner spent time overseas at elBulli and Noma before landing in an industrial section of the city, where his Wednesday-Saturday prix-fix earned him a Food and Wine Best New Chef recognition in 2010. (The nearby Café Castagna is more a gastropub than anything). And granted this is not the style of cooking that I run to at home — Corton and WD-50 are but restaurants I write about from a distance. But $65 is a modest bar tab in New York City. Or an hour at the Koreatown rubdown. High-minded, elevated cooking like this should not be so cheap. 1752 SE Hawthorne Blvd., 503-231-7373
Update: Lightner is reportedly moving to NYC!
Jory
Head out of town 45 minutes and you're placed smack in the middle of one of America's most-exciting wine region (I will get to that in another post). Newberg's Allison Inn is a new luxury inn and spa — with all the luxury spa fixings like massages and a deft concierge service. But it's their restaurant, Jory, that earns the highest marks. Chef Sunny Jin has spent time at both elBulli and The French Laundry before taking over the kitchen duties less than a year ago. Good call hiring this guy.
The dining room — overlooking the Allison's rolling estate — is split between 100 formal seats and eight stools slinking around the sparkling kitchen. From there I sampled a number (OK, a great number) of dishes. A plate of peas and prosciutto represents the chef's dedication to seeing local products to the most delicious results. The hog — raised my a farmer down the road—was fed hazelnuts 30 days before slaughter and finished with five gallons of Pinot Noir. The earthy, sweet pork dressed with fresh mozzarella and balsamic. A second pork dish — belly — was shaped with nectarines and smoked cipollini onions. Duck confit empanadas and delicate bites of salmon cheek with ginger pushed the flavors beyond the Northwest. Wine, of course, plays a major role in a meal at Jory and bar manager/sommelier Tom Bean is a master at pairing dishes with his ridiculous stash—we sampled rare vintages from Archery Summet, Natalie's Estate and Shea Wine Cellars.
And then I went home and ate salads for a week.
Next Week: Great places to drink in Portland, Oregon.
---
Any other food recommendations in Portland, dear readers? Let the world know in the comments.