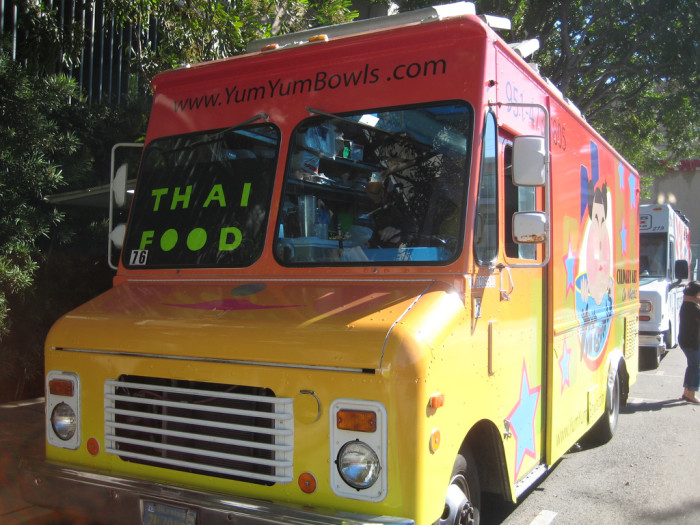 The big news out of New York yesterday was that food trucks no longer have a home on Manhattan's Midtown streets. It's a bummer, really, when you consider the momentum these mobile establishments had been picking up recently, and even more when you think about what kind of reaction the presence of food trucks are eliciting around the country.
Take this gallery of food truck options, for example. There are 81 different food trucks featured in this particular gallery, with spotlights on trucks in Atlanta, Austin, Boston, Cincinnati, Cleveland, Dallas, Denver, Indianapolis, Los Angeles, Milwaukee, Philadelphia, Portland, Reno(!), San Francisco, Oakland, Seattle, St. Louis, Tampa Bay, Minneapolis/St. Paul, Washington DC, New Orleans, and San Diego. That's 22 cities, and it doesn't even include one of the biggest food truck hubs of all, Baltimore, a city we'll spotlight next week.
So yes, this revolution is very real. What's more, reporters around the country are documenting legitimate efforts being made in cities like Savannah and Boston to increase the number of food trucks throughout the two cities. As Patrick Rodgers of Connect Savannah notes, members of Savannah's Creative Coast are meeting regularly to "iron out the convoluted web of rules hindering mobile food vending in the Hostess City."
In Boston, food truckers recently formed the Boston Area Food Truck Association, and Mayor Thomas Menino has thrown his full-blown support behind the cause, saying in April that food trucks "give opportunities to small businesses, enliven public spaces, and promote access to fun, interesting, fresh food across the city." (Kind of bland, Menino, but hey, let's hear it for government support!) The same goes for Louisville, KY, where trucks are popping up all over town and city officials have pledged to work with food truck owners to help them set up shop on commercial area streets.
The revolution of municipal support is no more evident than in Baltimore, however, where over sixty food trucks roam the streets dishing out everything from crepes to burritos to cupcakes to hamburgers. There, City Hall has actually done its part to make food truck parking easier on vendors, even in locations where the trucks may compete with brick-and-mortar restaurants that have been serving similar food items for longer than food trucks have even been a popular concept, by setting up a pilot program of designated parking spots for trucks to set up shop each day. The program currently involves five different spots around the city's downtown district, and if all goes well, expect to see these signs popping up in a number of additional locations around Baltimore city.
New York City may set the pace car when it comes to a massive amount of our country's culinary habits, but the city's recent outlawing of food trucks suggests its behind this particular curve. From LA to Boston, the people have spoken: These days, they want their meals on wheels.
More on food trucks at Food Republic: