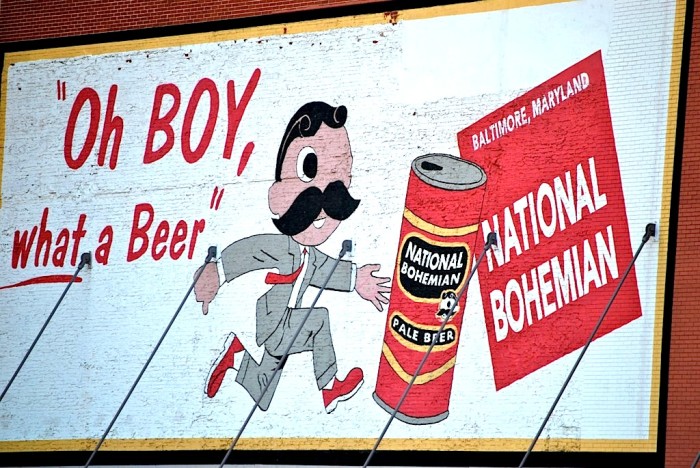 There's this thing that's been missing from Orioles games. I'm not talking about winning, though it's been 14 years since we've had much of that around Camden Yards. No, I'm talking about National Bohemian beer, Natty Boh, the beer once synonymous with the Orioles. It once embodied the city of Baltimore's tireless work ethic much like the boys in orange and black who graced the grass between Memorial Stadium's foul lines during the club's glory days of the 1960s and '70s.
There were other beers you could buy at the stadium back then, sure, but why bother? Baltimoreans have long loved their Boh — Hell, all of East Baltimore is cast under the light beaming from a giant Mr. Boh face that hangs from, you guessed it, the Natty Boh Tower in Brewer's Hill. And what went better on a summer night at the park than a pint of the cheap, Bohemian-style swill?
When my brothers and I first started drinking beer, we turned to Natty Boh. It wasn't like we had much of a choice: Our grandfather once owned the brewery that made the beer. But we weren't alone as Baltimore youths encouraged to buy six-packs of Boh over six-packs of Bud. In Baltimore, National Bohemian helped bridge generational gaps. Our parents grew up on it, and we would too, and though it ultimately tastes somewhat putrid — there are few flavors worse on the palate than the bottom of a warm can of National Bohemian — we welcomed it as our own. Natty Boh belonged to Baltimore, and everybody in our generation got that.
Of course, by the time we got old enough to drink at Orioles games, we had to resort to other options. Specific records are unclear, but the Orioles' front office will tell you that Mr. Boh stopped showing his face at baseball games sometime around 1990. So for 20 years, drinkers at Camden Yards had to settle for Budweiser or Coors Light, Miller Lite or some other macrobrew that had nothing to do with Baltimore and even less to do with the Orioles. You could stand outside of Camden Yards and drink Natty Boh for $2 a can at pre-game bars like Pickles and Sliders, but inside, nothing.
That is, until now. The Orioles brought Natty Boh back into the fold for the 2011 season, establishing a partnership with Pabst, which now distributes the beer. So while the Orioles are still mired in last place and five games under .500, fans at least have something to get excited about besides the off-chance that Brian Matusz figures out where the velocity went on his fastball.
You can see that excitement on the face of every Orioles fan who can draw a link to the past, on older dudes in the crowd who remember what it was like to sit in right field at Memorial Stadium and drink cheap Bohs, and on twenty-somethings who understand that somehow by drinking a simple beer they're throwing a nod to tradition and history — doing baseball games the way their parents did 30 years ago.
For me, the joy of having Boh back in the stadium came in late April. I'd brought a few friends to a Wednesday night game against the Red Sox, and the two teams were keeping things tight — tied 0-0 in the fourth. With two on and two out, Luke Scott took a Josh Beckett fastball deep to left, giving the O's an unlikely three-run lead against a tough pitcher I wasn't expecting the Birds to beat.
That's when my phone started buzzing. It was a text message from my father that read, "That HR deserves a round of Bohs, on me. Enjoy the game." As I walked from my seat to the concession stand, I thought about how that wouldn't have happened if Oriole Park was still shilling Budweiser as its primary brew. I thought about how my dad was probably waiting to send a text like that, how he could hardly contain himself when he had reason to bring the circle together — to buy his kid a Natty Boh at the ballpark, much like his father did when he was my age.
"From the Land of Pleasant Living," Mr. Boh, we're glad to have you back.
---
More from Food Republic: