The Ballad Of Crazy Legs Conti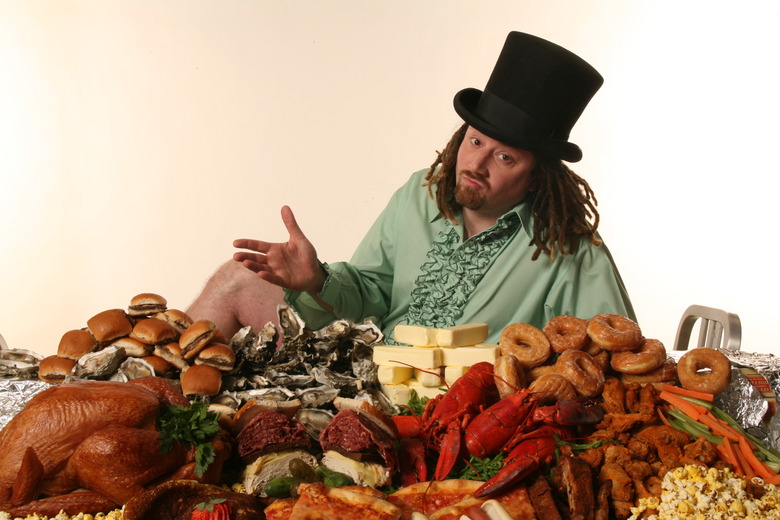 As a lifelong Celtics fan, one who bleeds Boston green, I had no sympathy for Lakers coach Phil Jackson as he sat sour-faced on the bench this spring, his long career winding down in an embarrassing sweep to the Dallas Mavericks. Why would I care about the man who broke Beantown's beloved Red Auerbach's record for total career championships? I had more pressing concerns as I prepared to qualify for my tenth consecutive Nathan's International Hot Dog Contest appearance this Fourth of July. After all, I'd be the first eater to eat for a consecutive decade in the 96-year history of the frankfest, held at high noon on the corner of Stillwell and Surf, Coney Island.
The contest has been described as the Super Bowl, The Masters, and the Daytona 500 rolled into one. The agony and ecstasy of sport and human consumption etched onto the faces (and stomachs) of the top 20 gurgitators in the world. 40,000 live spectators, millions watching on ESPN, but for me, it was simply what I did every Fourth of July. Even before switching from a casual diner to a gustatory gladiator, I attended the contest in the mid-'90s as a fan.
In those early "salad days" of competitive eating (the International Federation of Competitive Eating was formed in 1997), the crowd was so sparse, perhaps just 300 people, that the Shea Brothers, the PR firm that ran the contest, hired a woman in a pea suit to protest the event for some PR buzz. Now, the Sheas oversee 60 events a year in addition to the juggernaut that has become the Nathan's contest — according to Forbes, last year's contest generated $125 million; George Shea puts the figure closer to $300 million. Gluttony has become big business, with Joey Chestnut, the current champ — last year he ate 68 hdbs (or hot dogs and buns) to take the 12-minute contest — earning $218,000 per year. Granted, the next eater in line earned only $40,000, showing perhaps a dyspeptic system of payment, celebrity and Pepto Bismol endorsements.
To qualify for the finals, one must win one of the 15 qualifiers held in malls and parking lots at Nathan's locations around the country. I had been comparing myself to an aging Shaquille O'Neal, whose diminished talents but sizable personality had made a nice fit with the Celtics. Like, Shaq, I had a storied career with a few championships (his NBA, mine corn-on-the-cob). He was in the film, "Kazaam," I was in the immodestly titled, "Crazy Legs Conti: Zen and the Art of Competitive Eating" (available for sale and on Netflix). We both have video games, hundreds of media appearances, and thousand of dunks — his basketballs, mine hot dog buns. I even wore a Shaq jersey when I reclaimed my corn on the cob championship (33 ears in 12 minutes) after a 5-year losing streak. My skills were diminished too, but I thought I had enough to push past satiety and sanity, and return to the final table.
Pro-eating history is littered with the bun debris and tubesteak flotsam of crushed dreams, failed careers, and digestive woes. I had met all my goals but one. I had gone so far beyond what would be expected of someone who could eat fourths at a BBQ. I had travelled the world with Major League Eating when it teamed up with Navy Entertainment to host appearances at Naval bases to entertain soldiers in Greece, Italy and Japan. I spent a Labor Day weekend at Guantanamo Bay — making me something like the Bob Hope of the Hot Dog. I had eaten cannolis on The Sopranos, hot dogs on Jackass, hot sauce on Emeril and 459 oysters on David Letterman's Late Show (Letterman ate three). I had even eaten my way out of an 8-foot box, aka the popcorn sarcophagus, filled with 60 cubic feet of popcorn. That stunt earned me the moniker "The Houdini of Cusini." Like I said, all goals met except 10 years at Nathan's.
After losing a qualifier in Atlantic City in early June, I heard the news that Shaquille O'Neal had announced his retirement. Perhaps it was an omen that the Big Shamrock, my dunking doppelganger, would call it quits. Was it time to hang up the esophagus?
A couple weeks later I would be defeated in Southern California, leaving me one more qualifier, at the food court in the Concord Mills Mall outside Charlotte — the last chance tubesteak dance. Hall Hunt, a faith-based eater ("Corinthians 10:31: 'So whether you eat or drink or whatever you do, do it all for the glory of God.'") decided to skip the Charlotte qualifier, giving me an opening. I pressured friends Wing Kong and Steakbellie, two great eaters out of the Philly wing circuit, to not attend. I bribed Nasty Nate Biller with the promise of picking up his sizable bar tab instead of competing against me. Big Brian Subich, a guy who had been feeding me faulty info (A-Train can only eat 19 hdbs in 9 minutes, Megatoad hits the wall at 20), told me he wasn't going to show. I used to be able to eat 25 hdbs in 10 minutes, but with my diminished skills, I could barely break "the deuce" — 20 — so I was relying on friendship, misinformation, and flat-out bribes to qualify one last time.
The Concord Mills Mall food court has thousands of plastic seats, and hanging above them, giant cut-outs of chickens involved in a pie-eating contest. It's the perfect setting for competitive eating — a coliseum of consumption, a mansion of mastication, a biodome of digestion. For me, it was the final chance.
Big Brian Subich did show up, sheepish and apologetic, but prepared to eat and beat me. Subich and I are known on the circuit as messy eaters, often getting points knocked off post-contest for bun bits and hot dog shrapnel. We've both been involved in our share of controversy, some warranted and some simply the fabrication of anonymous internet critics. George Shea, a man who has travelled the intestinal highways of the nation overseeing competitive eating for 20 years, was the MC. Granted, George would have rather been perusing the abstract art at the Elder Art Gallery in Charlotte than sorting through mushed food to determine who would receive the free trip to NYC, the hotel accommodations, the $200 per diem, and the spot at the final table.
While away from his family and his lucrative commercial real estate business attending to Major League Eating needs, George's mood can turn surly. It's understandable: Most people who are attracted to competitive eating are oddball personalities. His job is part babysitter, part referee.
George told both Big Brian and me that any debris in cups would be punitively punished by increments of five. At an earlier qualifier in Pittsburgh, Big Brian had gotten to 27 hbds, but was deducted 7 (he later argued his way back to 22) and covered his cups with napkins to hide evidence of messiness. [I have to pause writing this, as the anger has gripped my typing fingers as tightly as the natural casing of a Nathan's mall dog.]
I lost Charlotte. That is the final result. I don't know Big Brian's final number. I think because of George's warning about the cups Big Brian choose to make a mess on the plates, mashing up five or so hot dogs and buns to confuse his final number.
When we finished, I had four plates (an extra plate was a double and discounted) and my usual bun mush around them. He had four plates with two-and-a-half buns (the half bun had a half a dog). Since equal increments of bun and dog have to be eaten to count, perhaps he had 17½. He claimed that his mess plus some other dogs and buns on another plate equaled deducting five. Does that mean he was at 20? At most he could argue that the ½ bun and dog counted and he was at 20½. Except that below the table, closest to him, by his water cooler, was a complete dog. He claimed it wasn't his, despite dropping stuff during the contest. I'll take a polygraph – the dog wasn't near me and wasn't mine. George made us split the dog, so instead of Subich's maximum 20½ becoming 19½, he got 20. My original 20 became 19½.
George was befuddled and frustrated, walking off stage to compose his thoughts. He came back to tell me, "I'm going to give it to him." I jumped off stage and headed for the exit as Big Brian received the trophy. I didn't look back; I took a $60 cab to the airport, boarded an earlier flight to NYC, and counted down the miles, the bus and subway stops, until I could close the door to my apartment, essentially pulling the covers over my head to shut out the reality of my hot dog disaster.
My decade at the table has been disrupted, my post-contest beer at Ruby's on the boardwalk denied. My storied career wouldn't be celebrated on Stillwell and Surf with 40,000 fans, but more likely lamented alone with surf and turf and Geary's Pale Ale in the quiet woods of West Baldwin, Maine. This is a place with no television and where hot dogs are known as "red hots" due to the bright, blood-red, waxy food-colored skins. My career, like Phil Jackson's, like the Mighty Shaq's, a digested memory for the masses. For me, I felt it more personally in my chest as I realized that the distance between heartbreak and heartburn is the length of one hot dog, no bun.