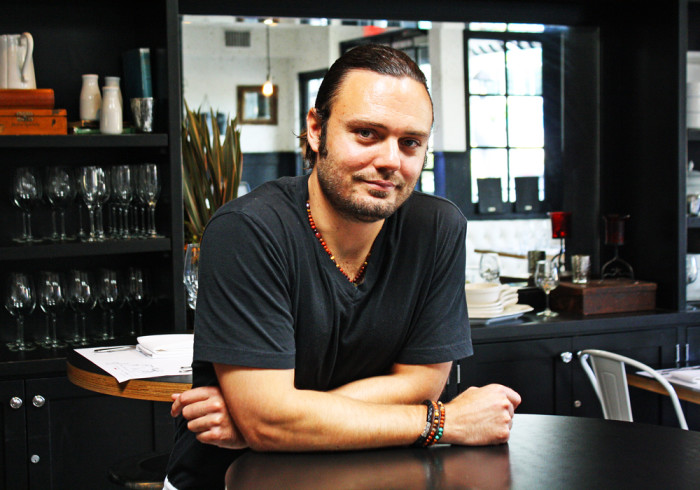 David Myers epitomizes the Food Republic guy: He's smart, stylish, knows how to cook, and he doesn't go off crying if he needs to make a fish sous vide but doesn't happen to have a sous vide machine handy. In other words, this chef is crafty. That's the skill that has helped him earn all sorts of accolades (best new chef in Food & Wine, Man of Style in GQ, and on and on). It's also what's kept people coming to his impressive roster of restaurants.
Still not even 40, Myers has his hands in Los Angeles (Comme Ca West Hollywood), Vegas (The Cosmopolitan), Orange County (Pizza Ortica), and Tokyo (Sola By David Myers). Still, he didn't seem busy enough during our last visit to LA, so Food Republic put David to work creating kitchen tricks to help a brother out when the asked-for tool isn't at hand. No chinois? No problem, thanks to Kitchenography with David Myers.
The second installment is a quickie. When you need a fine puree, like what you'd use as in a soup, sauce, or custard, or just for a decorative element when plating, you'd usually use the cylindrical tool known as the chinois or tamis — pronounced ta-mee, and something like a cross between a strainer and a snare drum. But let's face it, you probably don't have such tools at hand, and unless you have a good kitchen store nearby, they may be hard to find. Well, who need 'em. When you need a fine puree and don't have a chinois or tamis, a piece of 1/8" screen mesh from a hardware store taped to a mixing bowl will do the trick.
---
Need to go even thinner with your liquid? Check out how to filter a broth without a chinois in part 1 of Kitchenography with David Myers.