Brooklyn Bourbon? Fuggedaboutit!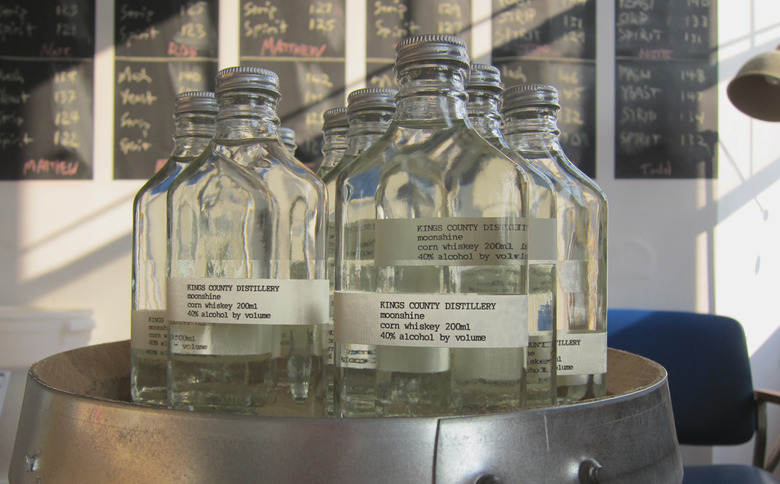 Adding to the march of hot, new craft whiskies, Kings County Distillery has announced that its bourbon is now available in stores. As the first whiskey distillery in New York City since Prohibition, the year-old operation launched with an unaged white corn whiskey, smartly packaged in apothecary-style flasks. The bourbon, of course, took more time. Aged for nine months, it was previously only available for purchase onsite at the distillery in East Williamsburg, Brooklyn (in — you guessed it — Kings County). As of last week, it's on the shelves at NYC retailers like Astor Wines, UVA Wines & Spirits, and Thirst Wine Merchants, and on the back bar at Brooklyn establishments like Fort Defiance, Fette Sau and Roberta's. Although, with demand as high as it is, your best bet might be to buy it online from astorwines.com, parkaveliquor.com, or drinkupny.com.
Kings County's products were wildly popular from just about the moment they were introduced. New York City liquor shops, bars, and restaurants that prefer to stock local, independent producers have been clamoring for these whiskies, especially since another beloved local whiskey brand was sold to a large foreign company, making it somewhat less local. (Tuthilltown Spirits, in the Hudson Valley, quietly sold its Hudson Whiskey line, including the acclaimed Baby Bourbon and Manhattan Rye, last summer to William Grant & Sons, the Scotch company that owns Glenfiddich. The Hudson Valley distillery continues to produce the whiskies, however, as well as several brands it still owns outright.) The sale left an opening for the next great local brown liquor.
So, how does it taste?
Kings County bourbon is a deep amber color, spiced, and herbaceous. Co-founder Colin Spoelman once said he wanted it to taste something like "a twig." He and partner David Haskell host monthly distillery tours and tastings. So, even when your local bar or liquor shop is running low, you can always count on getting a taste straight from the source.
---