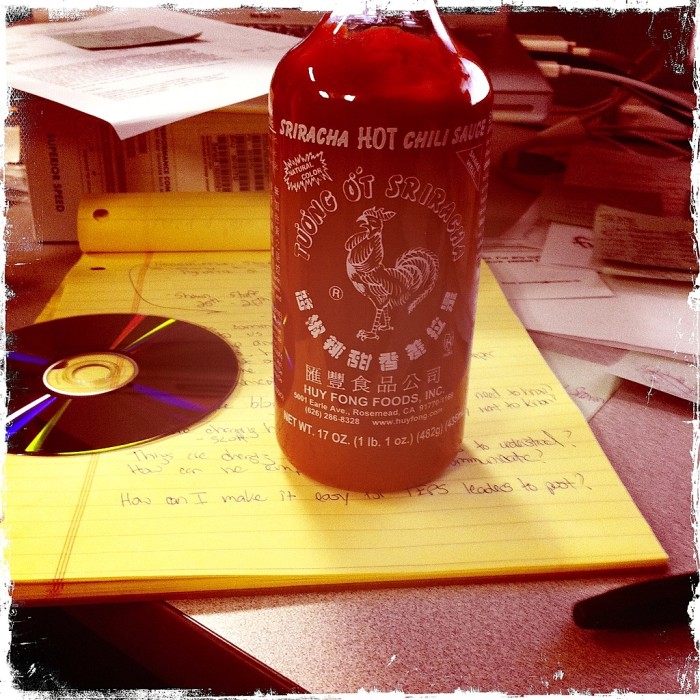 I don't think I'm overstating things if I say that so long as men can breathe or tongues can taste, so long lives sriracha, that perfectly balanced spicy condiment that has become a staple in so many 21st century kitchens.
If I were asked to put a food into a time capsule, the first item would be a bottle of the hot stuff. What better way to let future generations in on the state of food in 2011? The obscenely bright redness of the sauce in its clear plastic bottle, matched by its gaudy green cap, screams of back alley noodle shops in Thailand where few Westerners once dared to go—but now Tony Bourdain and countless others have earned permanent residency. It's in practically every fridge I open these days. It has become as iconic as a bottle of ketchup.
Pronounced sir-ROTCH-ah, named after a coastal city in Thailand, the sauce is a ubiquitous South East Asian condiment without definitive origin, but in the U.S., the creator is David Tran, a Chinese immigrant. Tran created sauces in Vietnam, where he was raised, but he concocted what he called Tuong Ot Sriacha in the early 80s in southern California. His pickled chili pepper, garlic and sugar recipe is the condiment that most Americans know as sriracha (there are a few other, much less popular brands). He put a rooster on the bottle (his astrological sign) and called his company Huy Fong Foods, after the boat that took him from war-torn Vietnam in the 70s.
I was first introduced to sriracha in the early 90s when I went to college in Providence, where there's a large Cambodian population. It was great in restaurants with soup or spring rolls, but it was a revelation in how it would transform bland foods at home—noodles, steamed vegetables, white rice—into a stunning simulacrum of spicy-sweet-salty street food. Since then, it has grown exponentially in popularity, to the point now when Tran's company, based outside of Los Angeles, produces more than 10 million bottles a year. And not to worry; tributes in Bon Appetit and The New York Times don't mean that it's jumped the shark. It's just become part of the canon.
What's incredible about the stuff is that it can be used in so many different ways; in L.A.'s kimchi taco trucks, at Applebee's (in a sauce for shrimp) and in Jean-Georges Vongerichten's kitchen (rice-cracker crusted tuna). You can buy the sauce at Wal-mart or at hole-in-the-wall Asian markets in San Francisco. As much as I can imagine Harrison Ford's character in Blade Runner gulping the stuff down after a day of hunting down replicants, its place is very much in the world we now live in.
Take just last night for example. There I was, facing a mash-up meal of fresh spinach stir fried with garlic, white rice and hot dogs. What could possibly unify these disparate elements?
You know it: A nice dollop of sriracha. It complemented the dog, brought life to the rice and gave spice to the spinach. Forget Pepsi. I'm a member of the sriracha generation.