Meet Miami Master BBQ'er Howie Kleinberg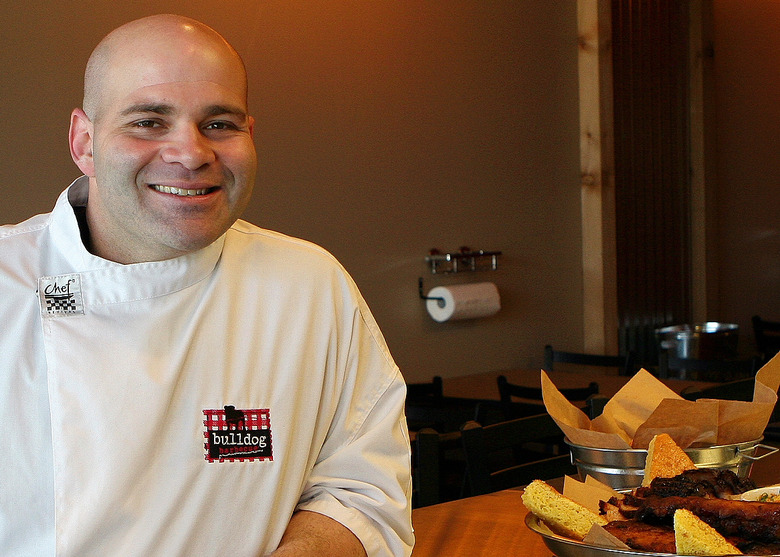 Howie Kleinberg portrait
The summer is prime time for barbecuing and Food Republic has this topic down packed! We've even headed as far down on the map for the top master barbecue tips. Not exactly known for its BBQ, Miami does have some winners in the realm of grilling, with Chef Howie "Bulldog" Kleinberg among the reigning champs. Most widely known for his stint on Bravo's hit show, Top Chef, Kleinberg has helped put Miami on the map for serious barbecue with his Biscayne Boulevard restaurant, Bulldog Barbecue. With no-fuss butcher paper–covered tables, a stainless steel bar, and a roll of paper towels at every table to help you wipe the sauce off your face, it's evident that Kleinberg takes his 'Cue seriously.
Bulldog Barbecue offers classic North Carolina–style BBQ, with traditional Southern BBQ dishes like pulled pork, beef brisket, and shrimp and grits. Although he lives in Miami, Kleinberg had his first experience with BBQ as a kid in North Carolina. "(Being in North Carolina) definitely started me on that road," says Kleinberg. "The barbecue I make is influenced by all different styles as well as my own culinary background and the fact that I live in Miami. There's not an overt Miami influence in my cooking but it's in the mix, for sure, especially when it comes to spicing."
One aspect Miami is known for is its sensational seafood, and Chef Kleinberg was eager to share with us his favorite fish for the grill. He reveals that "fatty fish are great on the grill, like mackerel and salmon — but they're not my favorite picks. For Florida fish, go black grouper or yellowtail snapper. Just make sure your fish is fresh and your grates are clean, hot, and oiled; no sticking." If you're also looking for a unique idea on what else to throw on the grill, Kleinberg advises to try grilling calamari. "A lot of people wouldn't think to do this, but grilled calamari are delicious," he says.