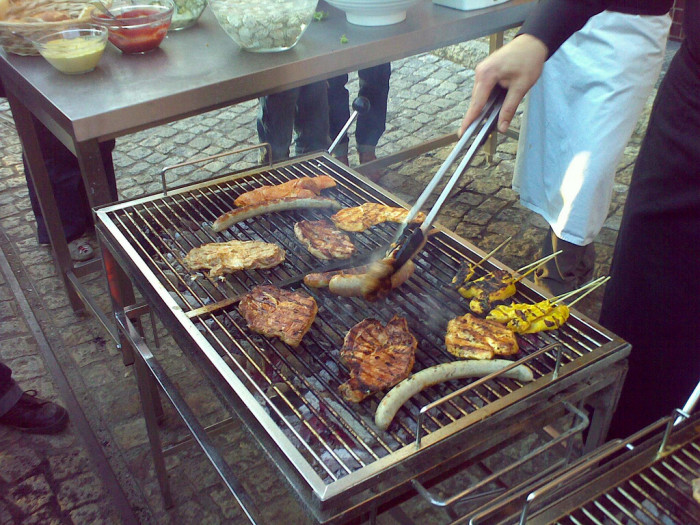 Ah, Father's Day—a day devoted to grilling with one hand and drinking a cocktail with the other. A day where your kids are servants to your happiness. We know you're ready to revel in your own glory, so crank up that fire, throw some meat on the grill, and take it easy—this is your day.
To get in the spirit, let us take you on a trip down Food Republic's grilling memory lane. Remember when Chef Patrick Connolly told us how to make a DIY grill? Or that time we sat down with BBQ legend Surjit Kasi, the genius behind Capital performance grills? Or when Pitmaster Ed Mitchell gave us his own personal grilling advice? Talking with these grilling masters made us antsy to get outside.
But before you rush out the door, clean your grill spotless and make that all-important decision of choosing between a marinade or a rub (you may want to consult with Adam Perry Lang if you choose a marinade) before you perfectly sear your meat. That is, of course, after you've fixed that pesky high flame problem. And while we're on the subject of manly cooking, don't forget to review grillmaster Aaron McCargo Jr's BBQ tips.
Here at Food Republic, we know you don't want just any food on your special day. You need YOUR food, which is to say food that has been grilled to perfection over the manliest of all elements – open flames. Pass this Father's Day menu along and feast like the king you always knew you were in no time flat.
Side note to delinquent family members—still haven't gotten Pops that perfect gift? Check out our Father's Day Gift Guide and 7 Last Minute Father's Day Ideas galleries and pick something out already!